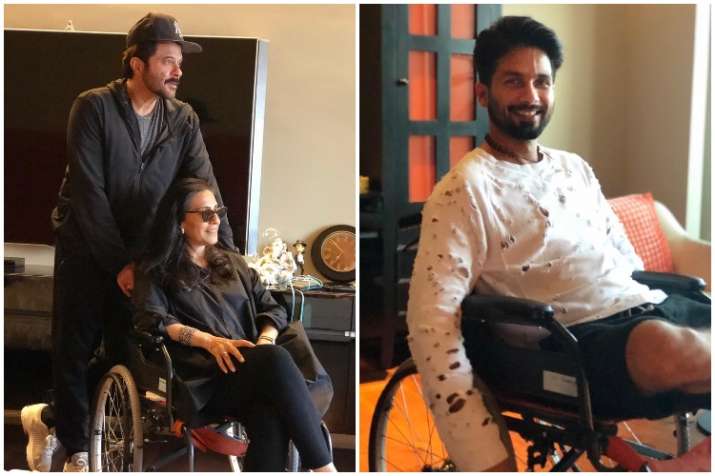 Farah Khan's impeccable sense of humour and its improvisation in Instagram captions are one of the reasons why she's my favourite Bollywood celebrity on social media. If you've found time to look at her Instagram captions and also tweets, you will get an insight of what a witty woman she is. The ace choreographer's sense of humour is so on-point that she manages to turn her injury into a side-splitting phenomenon on the internet. Recently, Farah Khan fractured her leg. Post the accident, many Bollywood celebrities, the latest being Anil Kapoor, visited her to uplift her spirits.
What happened in turn was the hilarious phenomenon I was talking about. The wheelchair which was purported to help Farah walk was used by these B-town celebs to strike some interesting pose. As Sania Mirza aptly said, the wheelchair was turned into a makeshift 'Throne' for clicking pictures and the results are worth a watch.
Anil Kapoor and wife Sunita Kapoor visited Farah Khan after wrapping daughter Sonam Kapoor's wedding. Following the tradition of the ongoing 'Wheelchair Diaries' they struck a 'Kabhi Khushi Kabhie Gham' style pose with the wheelchair.
Maniesh Paul, on the other hand, did a full-fledged Bollywood sequence on the wheelchair which is amusing in itself.
Sonu Sood turned the wheelchair into work-out equipment. That's how gym freaks stay loyal to their fitness.
Noted lyricist Javed Akhtar didn't mind enjoying a cup of coffee on Farah Khan's wheelchair.
Padmaavat's Maharawal Ratan Singh aka Shahid Kapoor can't stop smiling sitting on a wheelchair.
Raveena Tandon's immaculate dance skills are put to display on Farah Khan's wheelchair.
Et tu, Shilpa Shetty?
Sania Mirza has raised a right question which needed to be asked. "Why is everybody treating this wheelchair like a throne??? and why aren't you on it ?"
It seems like Farah Khan's wheelchair is going to be the next couch every Bollywood celebrity is vying to sit on. Koffee With Karan has got some major competition coming from Farah's end.