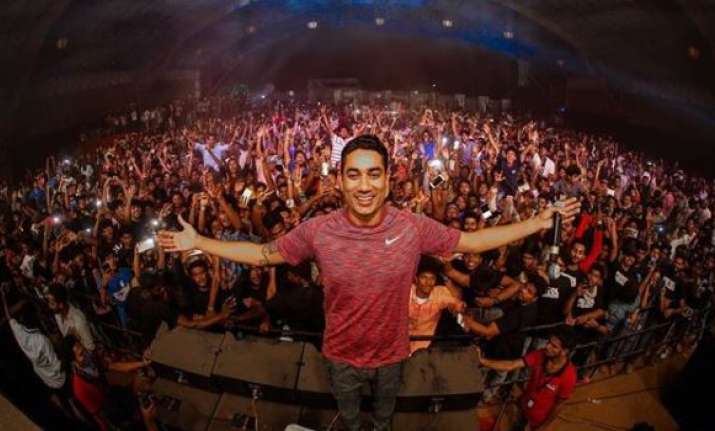 DJ-music producer Udyan Sagar, popularly known as Nucleya feels that Indian DJs are neither given equal respect as that of a singer nor they are taken seriously. However, gradually things are changing in the Indian music industry.
Nucleya is going to judge a digital musical show titled The Remix on Amazon Prime Video. He will co-judge along with singer Sunidhi Chauhan and composer Amit Trivedi. This is the first time that a DJ will be seen on the judging panel of a show. 
Asked how positive this change is, Nucleya said: "I think this is the first time where a music producer, instrumentalist, arranger -- people behind the song are getting equal respect as that of a singer. That is really encouraging."
"Yes, it is true that DJs are not taken seriously and not given equal respect as that of a singer in the Indian music scenario but I know many youngsters and aspiring DJs who count me as their inspiration. And the fact is, if I can reach big stages to perform, if they (budding Indian DJs) are good, they also can make it big."
Nucleya started his music career towards the end of the 1990s when he co-founded the musical act Bandish Projekt. Then he went solo and made albums like Pragat Pritam, Horn OK Please, Koocha Monster and Bass Rani. He has also collaborated with artistes like rapper Badshah, singers Shruti Pathak, Benny Dayal and more.
"I think unless I am collaborating enough with other musicians, my musical vocabulary will remain limited and I will not grow as an artist. So when I collaborate with various musicians, I learn from them, and understand my potential …I learn to experiment," said the artist whose song "Paintra" from the film "Mukkabaaz" was received well.
What is the advice that he would want to give to budding DJs and music producers? "Maintaining a brand is important and one has to prioritise what he or she wants to do as a DJ. For instance, I do not play at wedding parties and such places because after drinking a few pegs, people would say what they want to. They would ask you to play songs of their choice and say whatever. In the early days of my career, I played some of them and I felt disrespectful," shared Nucleya.
"Playing at various parties and weddings will surely give you a lot of money but is that something you want to gain as an artist? The career of a musician is surely not that, for me. So, I would suggest all the budding musicians to work hard, find your signature as a musician and establish your brand well."
(With IANS inputs)