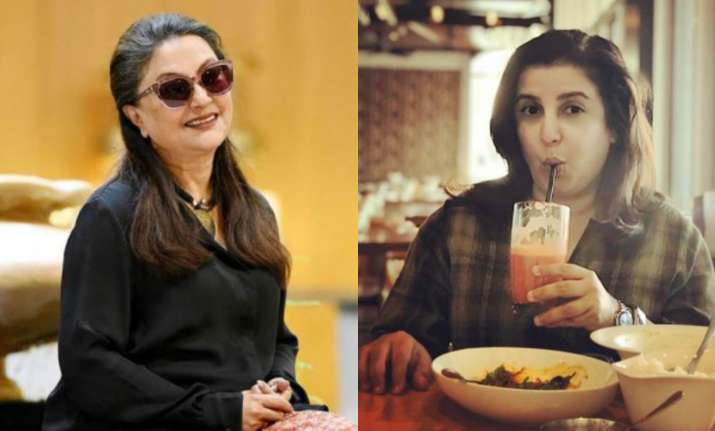 It seems that the National award-winning filmmaker Aparna Sen is not quite impressed with choreographer-turned-director Farah Khan's style of filmmaking. Hitting at her, Sen said that though there are several women in the field of direction now, some of them like Farah Khan have a distinct male gaze and play by patriarchal rules to become successful. 
Sen believes women directors are "confident enough in their own skin to critique their woman characters" but there are some who play by the rules. "...And then you have woman filmmakers who have a male gaze. They play according to the rules of the patriarchal system and make a success of it. For instance, Farah Khan, who makes predominantly mainstream films, has a distinct male gaze, except has a tongue firmly planted in her cheek while playing the macho game," she said while delivering the keynote address at the fourth edition of Gateway LitFest in south Mumbai. 
Sen, who made her acting debut with Satyajit Ray's Teen Kanya in 1961, went on to establish herself as a successful director with acclaimed films such as Paroma, Paromitar Ek Din, Mr. and Mrs. Iyer, 15 Park Avenue and Iti Mrinalini. The director said the question is not really about gender as all true artistes are androgynous by nature. 
"Male filmmakers only need to tap their female selves in order to develop their female gaze as many great filmmakers have done. But why is it important to do so? Because the world has been run by aggressive males and landed itself in a fine mess. It is time that the female gaze made its presence felt both in cinema and in a world that's been driven by intolerance, greed, hate and lust." She said gentler and more inclusive films should be made where multiple voices may be heard. 
"If we look at the depiction of sex, the male filmmakers will usually have the man in the role of an aggressor while the woman will remain passive. It will take an Alankrita Srivastava ('Lipstick Under My Burkha') to show up women's sexual desires in a way every woman can identify with. A filmmaker can have a female gaze while having a male protagonist," Sen said. 
Several other personalities such as Pratibha Ray, Shobhaa De, Sitanshu Yashaschandra, and Subodh Sarkar were also present at the event.
(With PTI inputs)