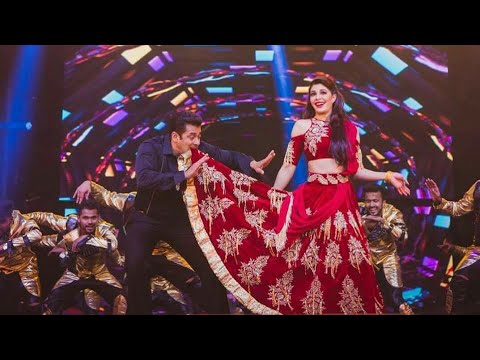 The much-hyped Da-Bang World Tour that is due to begin on June 22nd, has finally begun with its rehearsals. This star-studded grand affair will have celebs like Salman Khan, Katrina Kaif, Daisy Shah Jacqueline Fernandez, Manish Paul, Sonakshi Sinha, Prabhudeva and Guru Randhawa spinning around the globe performing in nine different cities, starting from June 22nd.
As the event is nearing, these stars are extensively prepping for it. Jacqueline Fernandez shared the rehearsals videos on Instagram today, with the caption, "Today at the Grand rehearsal for the Da-bang world tour!! I can perform live in front of thousands of people but today presenting my act to @beingsalmankhan @katrinakaif @aslisona@shahdaisy @manieshpaul@sanjayshettyofficial @thejaevents I was the most nervous I've ever been!!!! Desperately needed water even before my act began  USA & Canada we cant wait to be there performing live for you all!!!! 2 weeks to go!!!"
Though Jackie sounds nervous in her post, the videos totally go on to show how well these actors are prepping for the tour. She even shared videos with Daisy Shah, Sonakshi Sinha, Katrina Kaif and Manish Paul during the rehearsals. Have a look!
Actors Katrina Kaif and Salman Khan also shared Da-Bang World Tour posters on Instagram. Salman captioned it, "June is here aur countdown shuru ho gaya hai. USA/Canada - the #DabanggTour coming very soon near you "
Katrina also expressed her excitement in the caption, "Here we come #dabaangreloaded@dabanggreloaded2018 @zeeamericas@sahilpromotions @beingbhav@thejaevents @sohailkhanofficial"
Da-Bang World Tour will take place in nine cities from USA and Canada. The tour will begin on June 22nd from Atlanta and end on July 8th in Toronto.