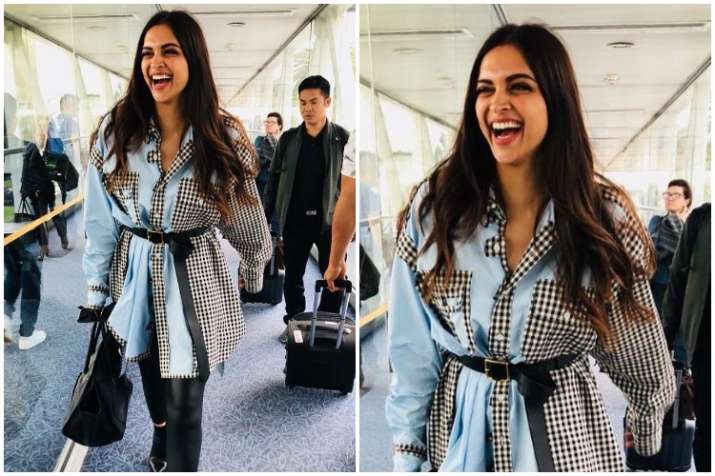 After making a tepid appearance at the coveted Met Gala 2018, Bollywood actress Deepika Padukone is back to slaying as she lands in the French Riviera for attending Cannes Film Festival 2018. The actress shared a happy picture of herself walking at the airport, smiling ear to ear. She is wearing an oversized Maison Margiela shirt. Unlike her Met Gala 2018 look, she has let her mane open on her shoulder, imparting a happy-go-lucky air to her overall look.
Deepika Padukone has been one of the fixtures at the prestigious Cannes International Film Festival. This year she is invited as a guest of the cosmetic brand, L'Oreal. She will be representing the Indian contingent at the 71st edition of Cannes along with Sonam Kapoor, Aishwarya Rai Bachchan, Huma Qureshi, Nawazuddin Siddiqui, Divya Dutta and Kangana Ranaut.
Also, Deepika Padukone was at a brief tour of Cannes before she flew to the US for her Met Gala 2018 appearance. She shared a picture of goodies' basket on her Instagram that welcomed her to the French town.
Talking about other celebrities, Kangana Ranaut arrived Cannes before her. Her look for the prestigious film festival is going viral on the social media. For the French gala, the Manikarnika actress is wearing a black shimmery saree by Sabyasachi. She has styled her hair in a vintage style, giving a retro touch to her overall look.
On the other hand, newlywed Sonam Kapoor is all set to leave Mumbai to attend Cannes 2018. We're excited to see how the actress will be setting the red carpet on fire this year. Sonam has been impressive throughout these years when it comes to her iconic sartorial choices.