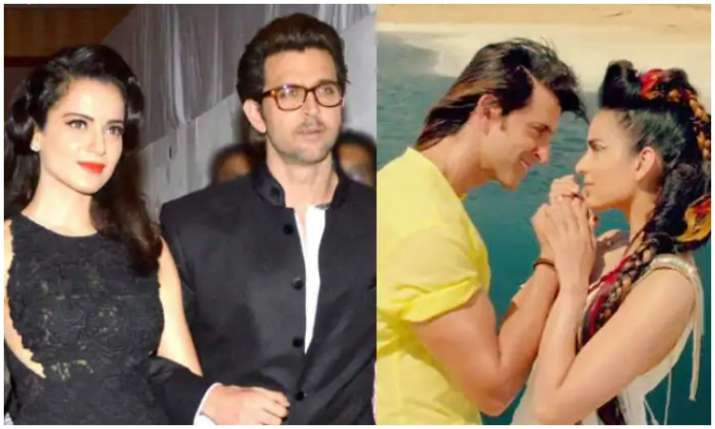 Hrithik Roshan Vs Kangana Ranaut battle took a whole new turn when it was announced that Kangana's Mental Hai Kya would be releasing on the same day as Hrithik Roshan's Super 30 on July 26. However, in a heartfelt social media post, Hrithik Roshan said that he was shifting the release date of Super 30to avoid a box office clash with Kangana Ranaut's Mental Hai Kya. The actor stated the decision was taken to save the film from being "desecrated by yet another media circus".
Though the Krish actor did not name Kangana Ranaut in his statement, posted on Twitter, Hrithik hinted at their long-standing ugly public feud. "So as to not allow my film to be desecrated by yet another media circus, I have decided to shift the release date of my film 'Super 30' in order to save myself from the personal trauma and toxic mental violence this would cause. Despite the film being ready, I have requested my producers to shift and announce the next suitable date as soon as possible," Hrithik Roshan tweeted.
As soon as Hrithik Roshan's post hit the internet, there was complete buzz everywhere. Fans and members of the social media couldn't help but laud the actor in taking such a 'dignified step'.
May 9, 2019
#Super30 is all about spreading a positive message in the society and it will rise away from toxicity certain negative people were trying to create around it for their personal pathetic gains.#WeLoveYouHrithik and we stand with you strongly. pic.twitter.com/QUQ2AytcIs

— Hrithik Central (@HrithikCentral) May 9, 2019
"I am so Proud of you! you took the right decision.i as a fan can not see you to go through with such a shitty phase.But always remember you are a fighter and ll come out as a winner.#WeLoveYouHrithik #Super30", said a fan. 
We are always with you sir! 💕
We can definitely wait ! For #Super30 !
May everyone learn to get dignified as you!
Huge Respect to you! 🙌 #Hrithik Sir
You are real Superhero! Lv u Sir!😘
.#WeLoveYouHrithik sir 🙌
.@iHrithik @HrithikRules ! pic.twitter.com/S817tvSxuN

— Yash Patel (@yashpatel783) May 9, 2019
Very proud to have touched FEET of this MAN!!
he is pure love.
Thank you so much sir for being the best IDOL one can ever have!!
Very proud #ILoveYouHrithikSir pic.twitter.com/Sq2dMyLVKM

— Jay Mehta (@iJayHR) May 9, 2019
A fan tweeted, "U always teach us to handle the situation with dignity and class. We just want u to be happy and successful. Ur fans will always support u coz we know how humble n great our Hero is #alwaysproud #WeLoveUHrithik #Super30 good luck".
@iPratikChheda Sir you are down to earth person, Best Human being, Best father, Best Teacher, Best Inspirational, Best Fitness Guru, Best Dancer, Best Actor, Best Decission taker, Big Heart... In short u are perfect person... lots of Love to u sir. #WeSupportYouSir @HrithikRules pic.twitter.com/rNHSMc3Yu3

— Pratik Chheda (@iPratikChheda) May 9, 2019
More Entertainment stories and picture galleries
For all latest news and updates, stay tuned to our Facebook page