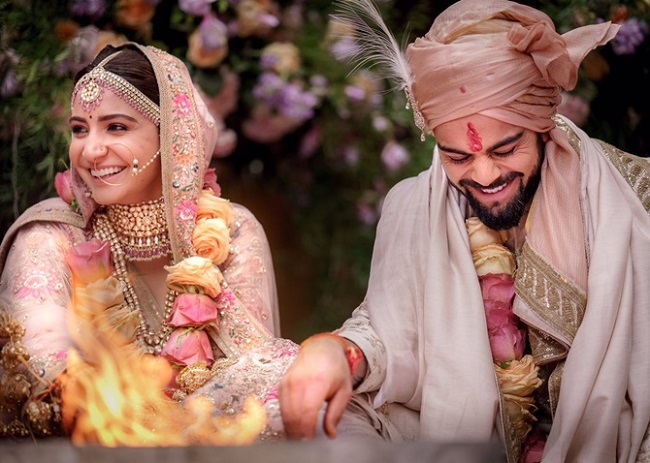 Virat Kohli and Anushka Sharma, they are all over the news for their gorgeous pictures from their Tuscan wedding. They got hitched in Italy in a private affair on Monday. But what seemed like a dream destination wedding wasn't devoid of last minute disasters. Wedding designer Devika Narain, who designed Virushka wedding, told BBC that they faced so many problems all because of weather in Tuscany.
For the uninitiated, Anushka-Virat wedding took place at Borgo Finocchieto in the Tuscany region of Italy. It is one of the most expensive holiday resorts in the world. When asked about the last minute disasters, Narain told BBC, "Weather. It is winters here (in Italy) and nobody gets married in the winters here. On the morning of the wedding day, we all woke up to a completely white landscape and the dew had frozen. It was frozen all over by 10 and by noon it was dripping. The outdoors function had to be moved to an indoor courtyard."
Devika Narain also worked on the wedding of famous celebrities like Robin Venu Uthappa, Dinesh Karthik, among others. She further told the news channel, "When I met them (Virat and Anushka), I kept addressing Anushka as 'bride' and she was like, 'what's wrong with you?'. I told her, 'I need to condition myself so that I don't take your name anywhere'."
Devika spoke about the kind of bride Bollywood actress Anushka Sharma was. She told, "Anushka is a typical bride and I did not expect her to be one. She had reference photos and was invested in every decision. All of this was her idea and we just planned it all."
"The function was like a typical Indian wedding. We had a welcome lunch, we had a sangeet on the first day. The second day was bright, colourful mehendi and that night was supposed to be a bonfire night but it rained. We were all huddled around one giant campfire. There was karaoke and everybody was singing," she added.
Devika also shed light on the return gifts that the guests received. She said, "Anushka and Virat are extremely spiritual people, I don't know how many people know this but they wanted everything to function around the idea of growth and prosperity. So the entire venue was like an over grown garden and they are big fans of Rumi and his poetry so an anthology of his poems were given as a take back gift."
Virat Kohli and Anushka Sharma will be hosting their wedding reception on December 21 at Taj Diplomatic Enclave in New Delhi. After this, they will throw a lavish party for their celebrity friends in Mumbai on December 26.