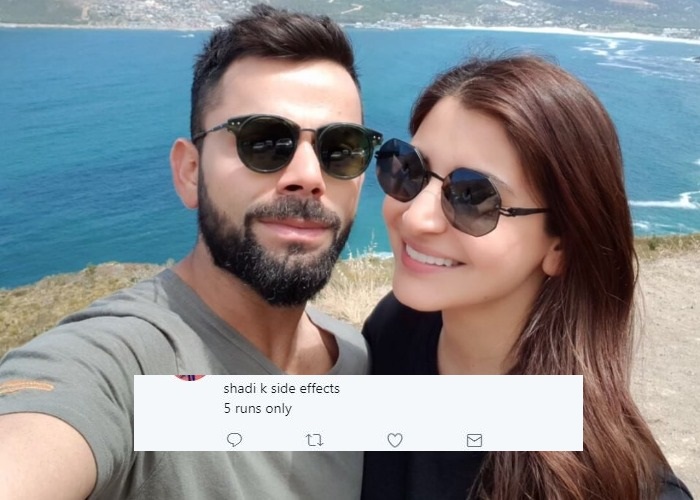 Internet can be a vicious place sometimes. The trolls that are sometimes amusing take no time to become offensive to senses. It's not new when Anushka Sharma is trolled for Virat Kohli's disappointing performance on the pitch. In fact, that's something we all saw coming when Virat Kohli and Anushka Sharma got hitched last month. I had a hunch if something goes wrong during India tour South Africa, everybody will starting picking at his wife Anushka Sharma. This is something very expected, inevitable but so wrong. Here's how these vicious trolls spurted venom when Virat Kohli got out making only 5 runs in the match.
Virat Kohli's wife Anushka Sharma was seen cheering for her husband from the stands. She must be very disappointed though, but trolls will never stop saying that it was her who jinxed her performance.
It's sad to see this trolling is happening once again after Virat Kohli rebuked his fans for shaming her. The Indian skipper posted on Instagram after his poor performance in World Cup semi-finals.
He wrote: Shame on those people who have been having a go at anushka for the longest time and connecting every negative thing to her. Shame on those people calling themselves educated. Shame on blaming and making fun of her when she has no control over what i do with my sport. If anything she has only motivated and given me more positivity. This was long time coming. Shame on these people that hide and take a dig. And i dont need any respect for this post. Have some compassion and respect her. Think of how your sister or girlfriend or wife would feel if someone trolled them and very conveniently rubbished them in public. #nocompassion#nocommonsense.
If we look at the pictures which Virat Kohli posted on Twitter with his wife Anushka Sharma, we can see how his pseudo-fans are spurting venom on his marriage. It's a wonder how even they call themselves a Virat Kohli fan or a cricket fan, for that matter.
Looking at these comments, do you think it is right to call them a cricket fan? Is it fandom that you laud your hero once he strikes a century and trample on the same hero when he's not in his best form? What kind of conditional love is it?