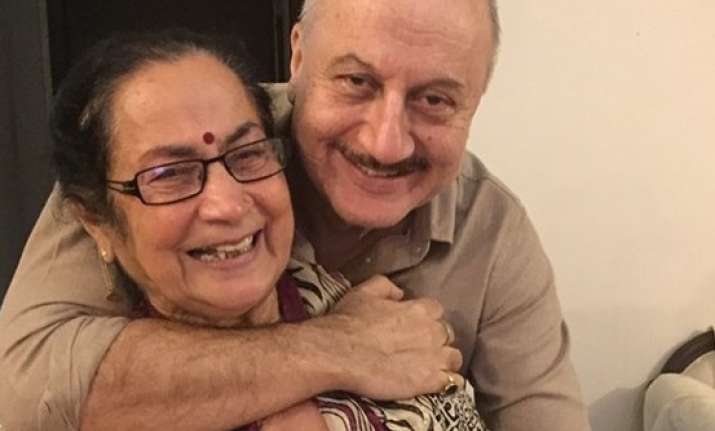 Anupam Kher is very close to his mother, Dulari Kher, who is as sweet as her name is. The veteran actor has been posting videos of his mother, showing some adorable mother-son moments between the two. His frequent gestures for his mother remind us how beautiful this sacred bond is. It's for a fact that no worldly beauty matches the love of a mother.
Anupam Kher shares a very close bond with his mother Dulari, who in turn showers all her love on her son. The actor has his own sweet ways of expressing love for his mom. Though he is often busy in his shoots, but he never misses an opportunity to spend some quality time with mother, Dulari.
On Friday, Anupam Kher shared a video that depicts how adorable mothers are. In the video, Kher is seen entering his house while talking over the phone. He is talking to his mother while tiptoes into the house to take her by surprise. Explaining the entire incident, he wrote, "She is BACK. This is the mother of all videos of #DulariRocks. I was going to meet Mom. She called. I didn't tell her that I am already there and continued talking to her. She was at the kitchen balcony talking to her son on the phone who was standing just behind her. And then... . Please watch this hilarious video.. #MomsAreHilarious #MomsAreInnocent #MomsAreTheBestest #MudoToSahi #DulaiRocks."
The way he said, 'mudo toh sahi', totally had us.
Many Bollywood celebrities including actress Parineeti Chopra commented on the video. His son Sikander Kher also dropped a comment asking his dad not to trouble his 'dadi'.
Here's another video of Anupam Kher's mother Dulari, in which she laughs nonchalantly while the actor records her on his phone.
Dear Anupam Kher, you're right. Moms are the 'bestest', indeed!