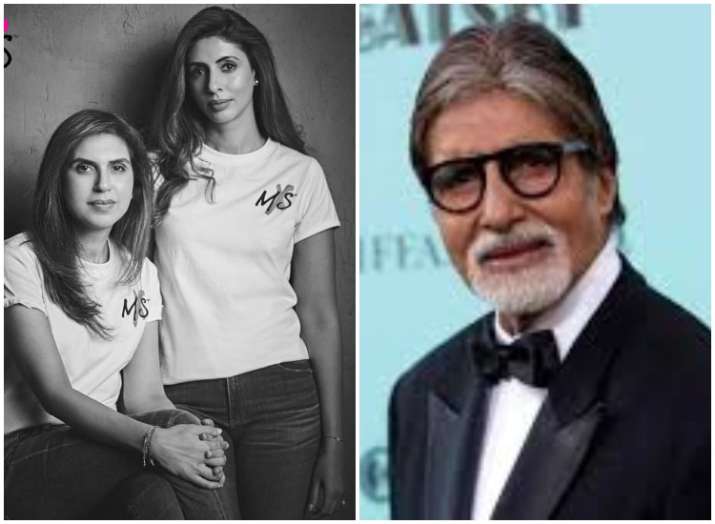 Bollywood megastar is extremely proud of his daughter Shweta Bachchan Nanda as she is all set to add another feather to her hat, by bringing up her fashion line in collaboration with designer Monisha Jaising. Expresing his pride over the same, Big B said, "Fashion just got fancier."
"'MxS' - luxury prêt label; born from a partnership between two unique and creative minds, Monisha Jaising and Shweta Bachchan Nanda. Fashion just got fancier… And a father filled with pride," Amitabh tweeted on Thursday.
T 2886 -"MxS", luxury prêt label; born from a partnership between 2 unique & creative minds, Monisha Jaising and Shweta Bachchan Nanda.
F A S H I O N J U S T G O T F A N C I E R@monishajaising @shwetabachchan@mxsworld#MxS #MonishaxShweta

.. and a Father filled with PRIDE pic.twitter.com/pgBTXdq4wz

— Amitabh Bachchan (@SrBachchan) August 2, 2018
The Bachchan family has flaunted designs of Monisha Jaising on several occasions in the past.
Earlier,  Shweta made her screen debut alongside her megastar father in an advertisement for a jewellery brand. However, the ad was later withdrawn after legal action was threatened against them for portraying bank employees in a negative light.
In the commercial, Big-B is seen visiting a bank with his daughter to return the extra amount of pension he received, where he is met with an unprofessional and non-cooperative employee, who suggest him to keep the additional amount.
T 2870 - Emotional moment for me .. tears welling up every time I see it .. daughters are the BEST !! pic.twitter.com/7Jes2GDPBo

— Amitabh Bachchan (@SrBachchan) July 17, 2018
The advertisement series caused huge outrage among the banking community across the country, which accused the jewellery brand of creating a distrust among the public in the banking system.
Meanwhile, The 75-year-old actor said Shweta was very comfortable in front of the camera. He feels that while the family has four actors - including wife Jaya, son Abhishek and daughter Aishwarya Rai Bachchan - "the true actress is Shweta". "I know she won't admit it but she is very good. She does fantastic mimicry. Anywhere we go, some incident happens, she will mimic everybody exactly to the point. She is a good actress," he added.
Did he give her any advice to face the camera? Amitabh said in a statement: "When we are in front of the camera enacting a particular scene, then we are in a character. Just like with any other artiste on the set, you want to exchange views and points or sometimes just like keep telling her... She is facing the camera for the first time so I can say a few things to make her feel comfortable or an advice. I don't know whether she has taken some advice. I am incapable of giving advice."
Does Shweta plan to explore a career in acting? "No. I don't plan on taking acting as a career... It's not a career. I think most women enjoy wearing jewellery and as a designer I also enjoy the process of designing it... and I enjoyed myself on the sets. It was great spending an entire day with my father." 
On the work front, the 75-year-old 'Piku' star is currently shooting for 'Brahmastra' alongside Ranbir Kapoor and Alia Bhatt.