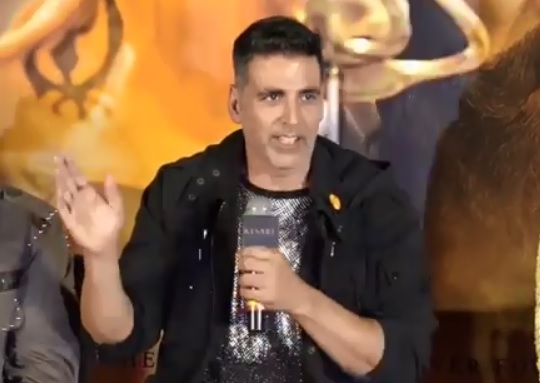 Akshay Kumar is currently busy in promotional activities of his upcoming movie Kesari, which is based on the historical Battle of Saragarhi. Akshay will be seen as Havildar Ishar Singh in the film, which also features Parineeti Chopra in an important role. We all know that a lot of memes surfaced on the internet after the trailer of Kesari was launched. Many memes linked the film with Ajay Devgn's pan masala ad. Netizens cracked jokes by relating a scene from trailer to the infamous 'zubaan kesari' tagline from the advertisement.
Despite all the buzz, makers must not have thought in their wildest dreams that question on this would be shot at them. Recently, during a press conference where Karan Johar, Parineeti Chopra and Akshay Kumar were present, a reporter asked the actor to comment on his contemporary endorsing a tobacco product by using the word 'kesari' while his film Kesari is about courage and valour.
Akshay was quite amused by the question and replied, "I don't think like that. I had never ever imagined in my entire life that I will be asked such a question''. He further said that he won't be able to come up with the answer to this question even if he spends his entire life thinking about it. This left his co-star Parineeti in splits. Watch the video below:
At the press conference, Akshay said, "It is sad that though the British celebrate Saragarhi Day, remembering the martyrs of the war, but we Indians do not know much about it. It is sad how an incident like this has got lost in the pages of history''.
Parineeti said that screen time was not her concern while signing the film as she wanted to work with the team involved. "When I met Karan Johar (producer) he told me the one-liner and he made me hear the love song and I immediately said yes to it, I did not even hear the full narration. I knew all these genius people were making an amazing film and I wanted to be a part of it,'' she said.
For those unversed, Battle of Saragrahi was fought between British led army of 21 Sikh men and 10,000 Afghan in 1897. It is touted to be one of the most glorious battles ever fought in history. The film bankrolled by Karan Johar's Dharma Productions and directed by Anurag Singh will hit the theatres on March 21. 
Watch Kesari Trailer here