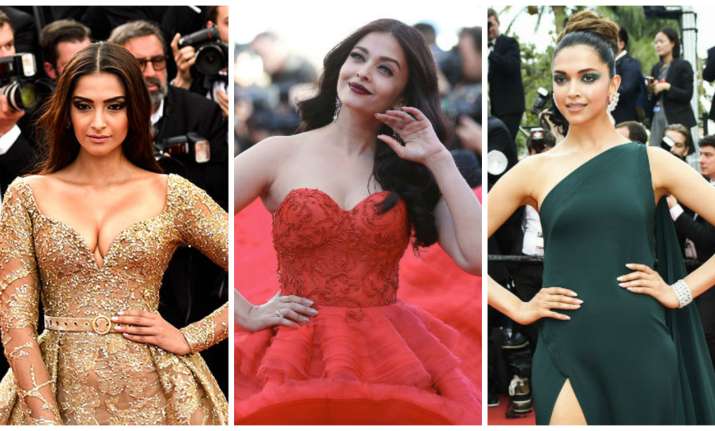 Bollywood actresses Aishwarya Rai Bachchan, Sonam Kapoor and Deepika Padukone will soon be heading to Cannes to add a pinch of Bollywood glamour at the red carpet of the prestigious Cannes Film Festival. Amidst Cannes regulars, another diva who will spread her charm on the red carpet is Kangana Ranaut. 
The 71st Cannes Film Festival will be held from May 8-19. The actresses will be walking the red carpet as L'oreal Paris brand ambassadors. Deepika will be walking the red carpet for the second time on May 10 and May 11. Aishwarya will be completing 17 years at the Cannes and will be attending the festival on May 12 and May 13. Sonam will be completing eight years at Cannes and will attend the festival on May 14 and May 15. Some of the other L'Oréal Paris spokespersons that will be seen on the red carpet include Julianne Moore, Helen Mirren and Doutzen Kroes. 
On the other hand, Kangana will walk down the red carpet as the brand ambassador of Grey Goose. Kangana, who is making her debut at Cannes fest will also present an international film as a part of global celebration of cinema.
The cosmetic brand is celebrating 21 years as the official make-up partner for the Festival de Cannes. The theme this year is #Summer Escape. Inspired by the French Riviera, glitz, allure and colours of Cannes, the #SummerEscape collection includes a range of long wear and all-day comfort make-up. 
Raagjeet Garg, General Manager, L'Oréal Paris, said: "We are excited to introduce our long-wear make-up range which has been designed to suit Indian skin tones in shades of summer. Our make-up experts have created signature looks that the ambassadors are going to wear on the red carpet, showcasing the perfect, glowing sun-kissed look."
(With IANS inputs)
For all latest news, keep checking our Facebook page