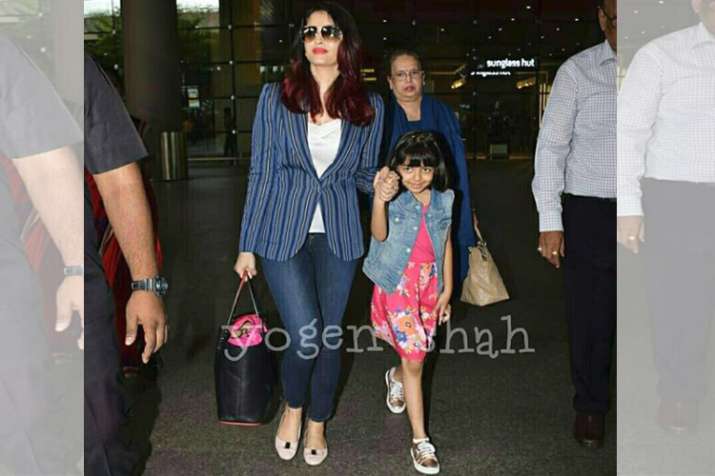 Aishwarya Rai Bachchan, who was in US to receive the inaugural Meryl Streep Award for Excellence, returned home along with her mother Brinda Rai and daughter Aaradhya Bachchan. Aishwarya was looking stunning wearing a blue stripped blazer which she paired up with a white top and blue jeans. Aaradhya donned a pink knee length frock with a denim jacket. 
Interestingly, the doting mother Aishwarya was snapped walking hand-in-hand with Aaradhya at airport, but this didn't go well with the fans and they mercilessly trolled Aishwarya for this act. 
While Aishwarya is often lauded for her responsible and caring attitude, this time around, when the video of Aishwarya and Aaradhya went viral on social media, it created an outrage. She was badly criticised by fans on Instagram for acting extra protective for her daughter.
One of the users wrote, ''Ufffff she's spoiling her daughter and snatching her confidence! I'm so sorry for the poor child that she got such stupid mum who is holding her like she's disabled.''
Another Instagram user wrote, ''Taimur has more confidence then aradhya.''
Aishwarya's husband Abhishek Bachchan who impressed fans with his performance as Robbie in Taapsee Pannu and Vicky Kaushal starrer Manmarziyaan, was also present at the airport as he went to receive her. 
On work front, Aishwarya will be next seen in Woh Kaun Thi and Raat Aur Din remake.