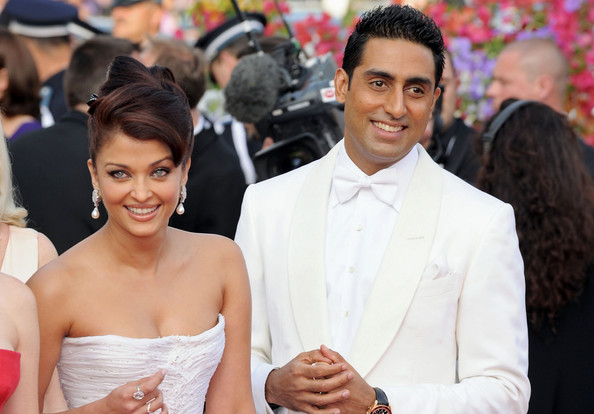 Aishwarya Rai Bachchan, who is currently in French Riviera to walk the red carpet at Cannes 2018 made her Instagram debut on Friday. The ravishing lady has so far 317k  followers, which she has garnered in almost a day. Well, the handle with name aishwaryaraibachchan_arb hasn't got the blue tick and this is what probably confusing her fans. To clear the air, her husband Abhishek Bachchan introduced the newly made Instagram account with a post from his own handle. 
Sharing a throwback picture of himself and Aishwarya from Cannes 2007, the actor wrote: ''Throwback to Cannes in 2007 shortly after our marriage. And now the Mrs. is on Instagram too @aishwaryaraibachchan_arb show the love guys. #MrsB''. See the post below:
Aishwarya made her Instagram debut by sharing a photo grid of her daughter Aaradhya from the time when she was born. Aishwarya captioned the photo which read: ''And I was born...again." Her unverified handle was given a sort of verification by a comment from her darling hubby who wrote, ''How about a photo credit, Mrs B?".
Meanwhile, Aishwarya's fellow L'Oreal ambassador Sonam Kapoor also welcomed the actress with a lovely note: ''My gorgeous co-ambassador is on Instagram! Can't wait to see you kill it at Cannes,'' wrote the newly-wed Sonam.
Earlier, a report in Pinkvilla claimed that the former beauty queen is upset with her team because of poor response to her Instagram debut. ''Aishwarya is upset with the way her social media debut happened. This is not what she expected. In 6 hours her profile has not even crossed 20,000 followers, which is very unlikely, given her popularity. She is also upset that there is no blue tick on her profile, making people wonder about the authenticity of the profile,'' the tabloid quoted a source saying.
Aishwarya is all set to walk the red carpet at Cannes on May 12 and May 13.
For all latest news, keep checking our Facebook page