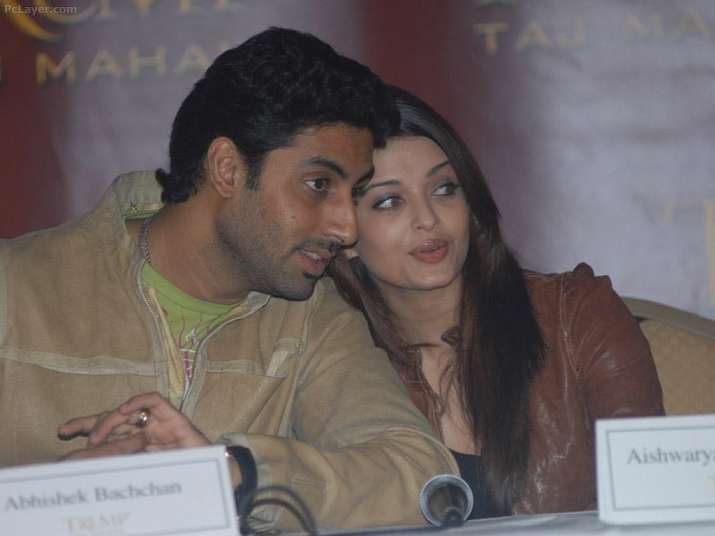 It's been 11 years since Aishwarya Rai Bachchan and Abhishek Bachchan tied the knot back in 2007, but the actor can't get enough of his gorgeous wife. He doesn't miss any opportunity to sing praises for his wife. Recently, during a press event, Abhishek Bachchan talked heaps about his ladylove Aishwarya Rai Bachchan. He said, "She is superwoman. She is unbelievably dedicated to all that she does." This interview wasn't even a week older when Abhishek Bachchan got nostalgic and romantic on the social media.  Sharing a throwback picture from the 'Unforgettable Tour' of 2008, he took the social media by storm on Friday.
In the caption, he wrote, "#FlashbackFriday
During a press conference while we were on the "Unforgettable Tour" back in 2008. Think this was in Atlantic City.
#TheMrs."
In the candid picture, Aishwarya Rai Bachchan is whispering something into her husband's ears while the latter listens carefully.
The Unforgettable Tour took place at the Nassau Coliseum in New York in 2008. During the event, Abhishek Bachchan even ran onstage to hug his wife Aishwarya Rai who was talking to the audience about sustainable development. The couple was joined by musician duo Vishal and Shekhar. Dad Amitabh Bachchan was also present at the tour.
Madhuri Dixit, Preity Zinta and Riteish Deshmukh also performed on the stage during the Unforgettable Tour.
Abhishek Bachchan and Aishwarya Rai Bachchan tied the knot in 2007 after dating for a couple of years. Love sparked between the two during the shooting of item song Kajra Re for Abhishek's film Bunty Aur Babli. He proposed his now wife in New York while shooting for the film Guru, in which they played onscreen couple. They are now proud parents of Aaradhya Bachchan who is the apple of their eye. Aishwarya is often seen flaunting her PDA for daughter Aaradhya on her newly-made Instagram account.