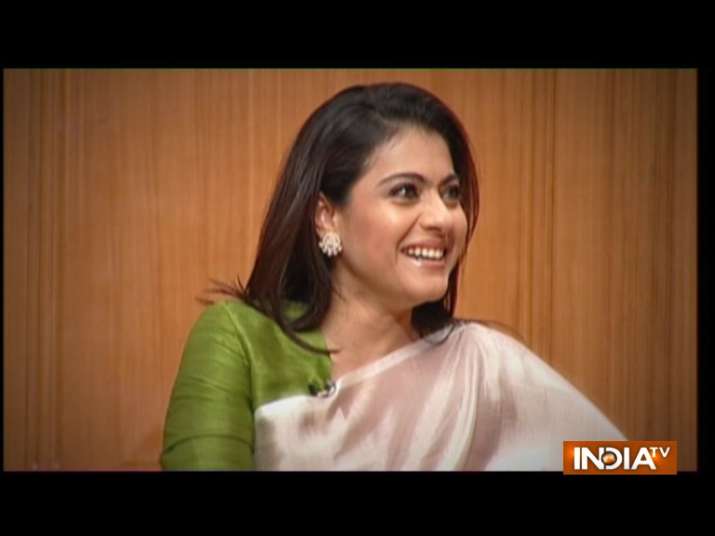 Helicopter Eela actress Kajol was the latest to join the league of actors who appeared on the famous talk show Aap Ki Adalat. The 44-year-old actress was on the show to talk about her upcoming film Helicopter Eela, in which she's playing the role of an over-protective mother to award-winning actor Riddhi Sen. During her conversation with India TV's Editor-in-Chief Rajat Sharma, Kajol left no page unturned. She divulged many fascinating details about her personal and professional life. From talking about the films she rejected to her first meeting with now-husband Ajay Devgn, Kajol bared it all. The bubbly actress never minced her words for once and made Saturday's Aap Ki Adalat a delight for Bollywood lovers.
When Kajol pranked her husband Ajay Devgn on phone
Kajol is a flamboyant actress who lights up every room she enters. She never haves any dull moments and this particular detail about her made her one of the most loved Bollywood actresses of all time. Talking to the host Rajat Sharma, she narrated an incident from the shooting of her first film with Ajay Devgn Hulchul. When Ajay Devgn called on her hotel room landline, she impersonated Sridevi on phone and hung up. Later, the actor had to call her mother Tanuja to contact her.
Kajol lost her memory temporarily after a bicycle accident
Kajol's favourite co-star Shah Rukh Khan was as naughty as she was. During the shooting of Kuch Kuch Hota Hai, Kajol had a fall while riding a bicycle. After the accident, Kajol suffered temporary amnesia which played in favour of Karan Johar and Shah Rukh Khan. They tried to convince her that she's an extra in the film and not the lead actress.
How Kajol fell in love with 'Khadoos' Ajay Devgn
Kajol always thought Ajay Devgn to be a snob. On the sets, he used to just silently in the corner with a coffee mug in his hand. He was never a man of many words. Talking about their first meeting, she said, "When I first met him, he was having his coffee, staring everyone in the room. I was like kitna ajeeb hai yeh. It was strange to see a man like him. When I talked to him, I realised that no yaar, this guy is intelligent that's why he speaks less."
When Kajol met filmmaker Karan Johar for the first time
Kajol recalled how he met a young Karan Johar at a party and also, revealed why she found him extremely funny." I first met Karan Johar met in a disco. There was a filmy going on in the discotheque and I happen to meet Karan who was just 20 years old back then. He was wearing a three-piece suit at the party and, I found it really hilarious so I told him upfront that he was looking very funny", Kajol was quoted as saying in Aap Ki Adalat.
Kajol's fallout with filmmaker and close friend Karan Johar
The rift dates back to 2016 when both Karan Johar and Ajay Devgn were releasing their ambitious films Ae Dil Hai Mushkil and Shivaay respectively. Due to the box office clash, KJo was disappointed in his close friend Kajol who could have averted this from happening. Things went south for the two once close buddies. However, when Karan welcomed his twins Yash and Roohi, Kajol couldn't help but reconcile with her friend. 
Kajol opened up about her rift with Karan. She said that things like these are unfortunate but happen among friends. She also assured that everything is fine between them.