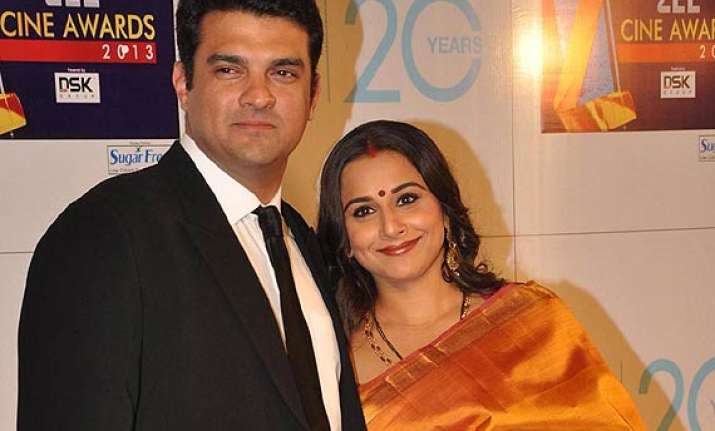 Actress Vidya Balan, who has been hogging limelight for her personal life in the recent times, has denied all reports of trouble in her marriage.
"We are happy with each other. There is no chink in the armour. Sorry to disappoint you", says Vidya as quoted by a leading daily. She wonders "why people find it difficult to stomach that Sid and I are happy with each other". She has slammed all reports that have recently suggested that her marriage with Siddharth Roy Kapur is in trouble.
According to reports, Vidya Balan and Siddharth Roy Kapur's marriage was in trouble. After Vidya was travelling abroad frequently, Siddharth allegedly grew quite close to another upcoming actress.
"I think these rumours started because I opted out of Sujoy's film, and IIFA awards. I said that there's a niggling health issue. But people said, 'Maybe it's not'... I think it's just extremely judgmental. May be people can't stomach the fact that an actress will actually take a break. It's amusing, the kind of stories floating around. One week, I'm pregnant; the next week, there's a problem; the week after, I'm unprofessional," she said to a daily while interviewing.
Vidya has also opined that the recent rumours revolving around her pregnancy and now failing marriage is the outcome of judgmental people who cannot handle even a slight change in the life of a celebrity.
Siddharth has been married two times before. His first marriage was with a childhood sweetheart while his second wife was a producer. They got a divorce in 2011.
Vidya and Siddharth came closer during the shooting of 'No One Killed Jessica' and got married in 2012.