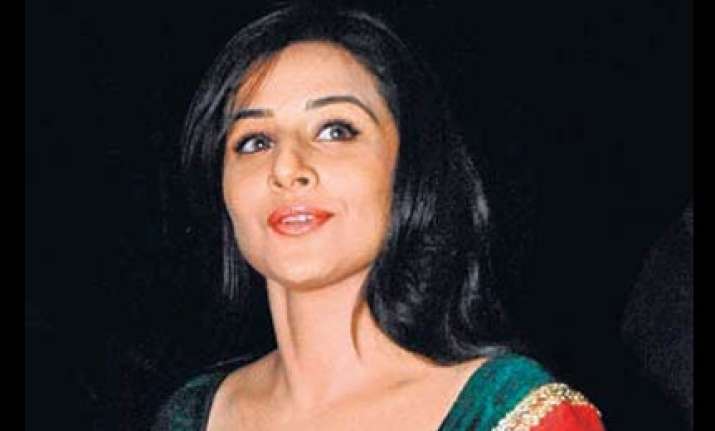 Bollywood actor Vidya Balan's plans of performing a complex item song for Santosh Sivan's Malayalam film Urumi have been postponed due to an acute shoulder condition, says a media report.
Her doctor has warned her not to do anything strenuous as it could result in permanent harm.
If it hadn't been for the injury, she would've been training in the ancient dance form of mohiniattam for Urumi. Though she is a trained classical dancer, Sivan had hired a mohiniattam dance expert to teach Vidya the nuances of the dance form. Although her spirit and feet are still willing, her body is too weak to bear the vigorousness of dance.
She says, "I was in so much pain I couldn't do any of the normal things, let alone dance. I was supposed to start preparing for it this week. Unfortunately, I am down with a painful shoulder condi and have been completely forbidden from doing anything strenuous."
Vidya has a chronic shoulder condition, which was aggravated after she went against her trainer's advice and started her gym routine before it had healed completely. She has now had a relapse. "I didn't listen to my trainer. Now I have to wait out, I have no option. Now I can't dance until I've fully recovered. Otherwise I'll have a life-long shoulder problem."
Vidya says her number for Urumi was supposed to be a fusion of several dance forms, including mohiniattam. She adds excitedly, "Since I was born in Kerala my family is looking forward to my foray into Malayalam films. I thought a song is a  very good place to start. I still haven't forgotten the impact of my classical number in Bhool Bhulaiya. The one in Santosh's film would be far more sensuous and intricate. But now this has happened all because of  my own stubbornness."