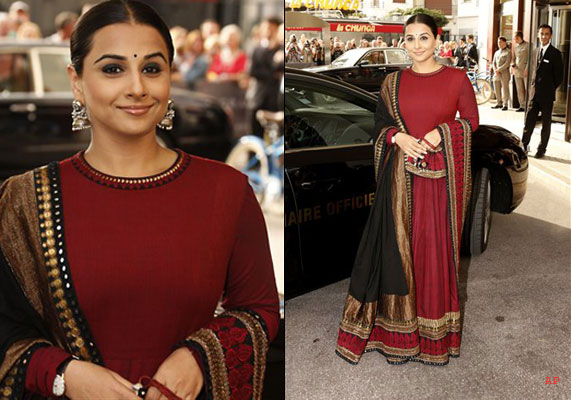 New Delhi: Vidya Balan, Steven Spielberg, Nicole Kidman arrived for the annual dinner for Cannes Film Festival jury on Tuesday.
Vidya  Balan donned a red 'Anarkali' suit for her first Cannes appearance. Like a true Indian screen diva, she dazzled on the red carpet for a special dinner ahead of the opening of this year's Cannes Film Festival.
Oscar-winning director Steven Spielberg is heading up the group of nine jurors which includes fellow Academy Award winners, Nicole Kidman, Christoph Waltz and Ang Lee.
Also casting their votes will be Japanese director Naomi Kawase, Romanian film maker Cristian Mungiu, British writer and director Lynne Ramsay, Indian actress Vidya Balan and French director Daniel Auteuil.
The 66th edition of The Cannes Film Festival got underway on  Wednesday (May 15 )  with its opening film "The Great Gatsby" starring Leonardo DiCaprio.
The Cannes Film Festival runs until Sunday, May 26, when the winner of the Palme d'Or will be announced.
Views Pics----: