Follow us on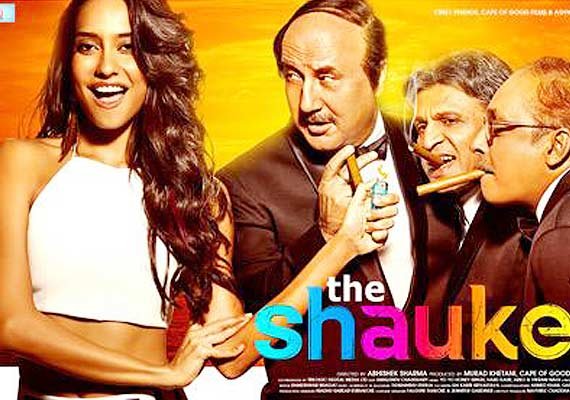 The fantasy for beautiful ladies never fades it doesn't matter how old a man grows. 'The Shaukeens' displays the unending fantasy of the male fraternity in a light-hearted manner, which is self-deprecating.
Ratings- ***
Stars- Akshay Kumar, Lisa Haydon, Anupam Kher, Piyush Mishra, Annu Kapoor
Director- Abhishek Sharma
Music- Yo Yo Honey Singh
Lali (Anupam Kher), KD (Annu Kapoor) and Pinky (Piyush Mishra) are occupied in their personal lives. Lali who owns a shoe showroom in Cannaught Palace, is fed up from his wife's devotion towards God while Pinky is a widowed husband and sells catch 'masala' in Chawri Bazar, however he has no spice left in his life.  The most 'rangeela' among them all is KD who runs an NGO under whose disguise he learns the art to woo a woman. And yes, he is the only one who leads the team to a notorious Mauritius trip decided after turning down Bangkok as their holiday destination, since it's infamous for legally selling sex.
Finally they reach to the beautiful city and set their eyes on Ahana (Lisa Haydon), a carefree bird who has rented her house to them. Ahana is a big fan of the superstar Akshay Kumar (played by himself), and wants to meet him for once. The three consider this as their ticket to Ahana's heart. Just they have to do is to influence 'the alcoholic superstar'. But is it that easy? Find it out yourself.
Director Abhishek Sharma of 'Tere Bin Laden' fame does a justifiable job to the script penned by Tigmanshu Dhulia. 'The Shaukeens' is not entirely a laugh riot but still manages to give you ample laughter doses. The sexual fascination is something, which most of the movies earlier displayed it rather in a sleazy manner. But Abhishek Sharma doesn't exploit a male's infatuation towards women. He keeps it subtle in place of making its characters ogle at the female's parts; however, that's the intention of the three 'tharki' characters. The jokes with one-liners are impactful. The adult talk is viable and men who are off their middle age mark would find it amusing to witness their type of discussion on screen.
The Déjà vu chat of three and their stupid act to woo Ahana tickle your funny bone mostly in the first half, however it is carried forward post interval but few glitches spoil the mood and the funny gags followed thereafter struggle to fill the gaps.
The trio's attempt to make Ahana meet Akshay Kumar looks effortless while Akshay greeting them too looks unreal. Moreover, the climax is a bit abrupt even with Akshay's brilliant efforts but if all of that is sidelined, the movie in the end succeeds in turning out to be a good entertainer.            
The icing on the cake is actors' performance. The wolf pack of the three gives a brilliant act to their characters. Annu Kapoor is a man with good humour and in 'Vicky Donor' we have seen it. The classic actor is once again deliciously brilliant.
Anupam Kher, as we all know can pull off both comic as well as serious roles with ease, brings excitement and naughtiness with brilliance. Piyush Mishra whose even serious roles turn out to be comic is great in this movie.
Akshay Kumar suits in his character of an alcohol fanatic superstar. Lisa Haydon looks beautiful as well as gives a fine performance.
Music by Yo Yo Honey Singh, Hard Kaur, Vikram Nagi and Arko Mukherjee is wonderful. Meherbaani is the pick from the album.
I'll go with three stars for 'The Shaukeens', which gives you a good over two hours of entertainment.