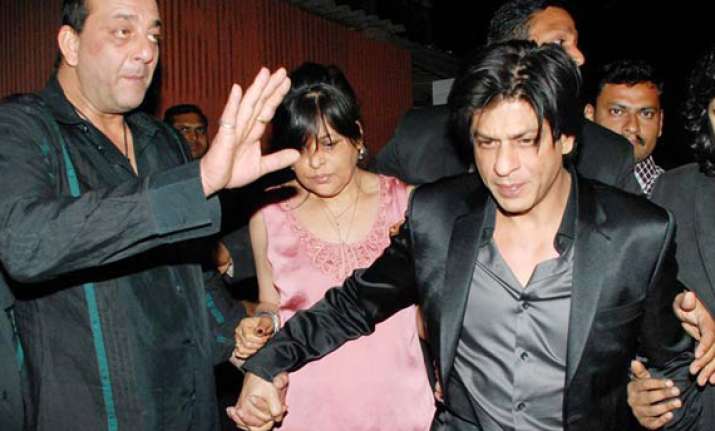 Mumbai, Feb 2: Bollywood superstar Shah Rukh Khan on Wednesday said media coverage about the incident involving Shirish Kunder was affecting his kids.

"Lots of things are being said about my life in news channels but the stuff which you put up in the channels are not the whole truth. This is embarrassing at times as I have a 14-year-old son and an 11-and-a-half year old daughter," said Shah Rukh, who was in Kolkata.

Khan felt it was embarrassing for a father to explain certain issues to his children.

"Every morning it becomes very difficult to explain to your children and it becomes embarrassing as a father, as a brother or as elder son of the family to explain about what is stated," he told reporters.

Shah Rukh reportedly roughed up Farah Khan's husband Shirish early Monday morning during Sanjay Dutt's success party for 'Agneepath' in a Mumbai bar.

"Bollywood stories are presented in a larger than life way... I have read the headlines. Yeah, some of them have not happened and some of them might have happened, but I would like to keep it to myself," he remarked.

Describing Farah as a very old friend, Shah Rukh  said: "I have heard things that have been stated about us and it's very difficult for people to sit down and read things in the house. In our house, the kids call her Farah aunty. It's really sad when for last two years people say she said this and that... None of that is happening."

"We can resolve our issues... certain issues we can resolve with hugs and happiness and I want to keep it personal," he said.

Earlier in Mumbai too he was evasive about the fracas.

"Did I tell you that there was a fight... no... so I will not tell anything about the patch up also," Shah Rukh told reporters at a pre-nuptial ceremony of Riteish Deshmukh and Genelia D'Souza. The actor reached the function in the wee hours of Wednesday.

The truce between Shah Rukh and Shirish was reportedly initiated by Farah's brother Sajid Khan and filmmaker Sajid Nadiadwala.