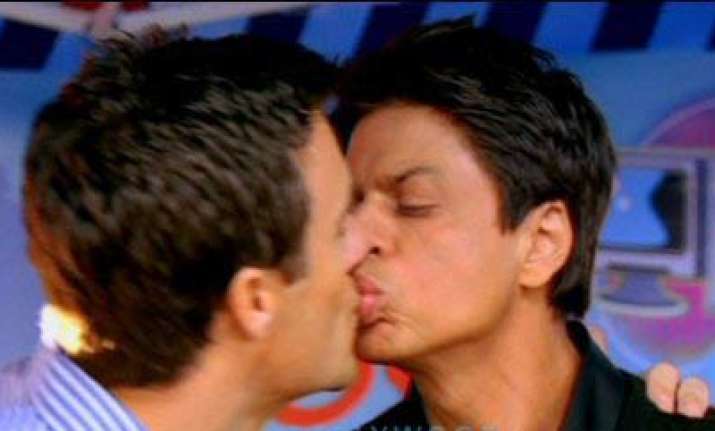 Bollywood star Shahrukh Khan's liplock with a man is doing the rounds on internet, says a media report. SRK has been doing this in all the major award functions.
A friendly kiss on the cheek or a hug of affection could never be misunderstood as an action of 'Gay.' But the above pic of Bollywood Super Star Shahrukh khan shows a lip kiss and the pic is making rounds on internet with a tag attached as " Super Star's Gay Lip Kiss? "
Few of the reports say that, this was the still from the small screen show of Jonathon Ross where in Shahrukh attended as special guest and this kiss was with one more guest on same show and he is John Barrowman. Shahrukh is known to have performed really funny bits on the show which was telecasted long back but more paradoxically, this still was missing from the episode.
The pic is commonly getting circulated in social net working sites like facebook. Please check this link Shahrukh Lip Lock. There is also a common discussion of this picture being morphed by some geeks. The truth behind this Picture can only be revealed by SRK himself.