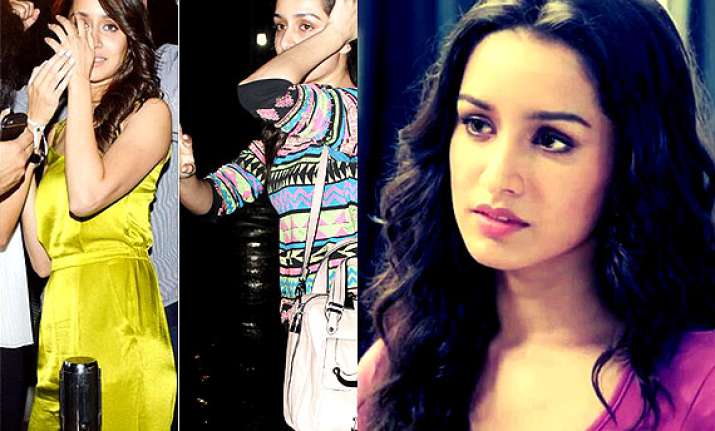 New Delhi: Shraddha Kapoor's pretty face and acting skills may have left her fans swooning over her but such is not the case with the paparazzi.
 It seems that instant fame with the success of 'Aashiqui 2' last year, which grossed more than Rs.100 crore at the box office and her recent film 'Ek Villain' too is doing very well at the ticket counter, stardom has flooded Shraddha's mind.
 Infuriated with the actor's behaviour in the recent past and after the release of the movie, the photographers decided to boycott her.  Despite repeated requests for photographs, Shraddha Kapoor has been ignoring them.
 At times her manager would block their view and prevent her from being clicked. So, this time shutterbugs decided to teach Shraddha a lesson.
 Unlike other actresses like Deepika Padukone, Kareena Kapoor and Katrina Kaif, Shraddha has constantly stopped the photographers from clicking her photos.
Be it the airport or a regular outing, the 'Ek Villain' actress makes a sour face each time she sees a camera.
 At the success bash of 'Ek Villain', the photographers present, decided to unanimously boycott the petite actress.
 Mohit Suri stood up on stage with his entire cast, and asked for the pictures to be clicked. No one responded. Baffled, Mohit asked on the mike, "What's the matter? Why isn't anyone clicking our photos?"
 Photographers then asked Riteish Deshmukh to step down and said that if Shraddha moves out of the frame, everyone will click the rest of the film's team.
The team discussed over the matter and came out little later. Shraddha came forward and apologized for her behaviour but the photographers refused to relent. 
In the end, the photographers remained adamant, and pictures were clicked of Riteish, Sidharth Malhotra and Mohit Suri, sans Shraddha Kapoor.
It should be noted that Shraddha is also missing from the pictures of the success party attended by Salman Khan.
 Hope Shraddha would have learnt a lesson from this that despite of strong PR and management team, the simple photograph of a heroine at various public events plays a very consequential role to play in their careers.