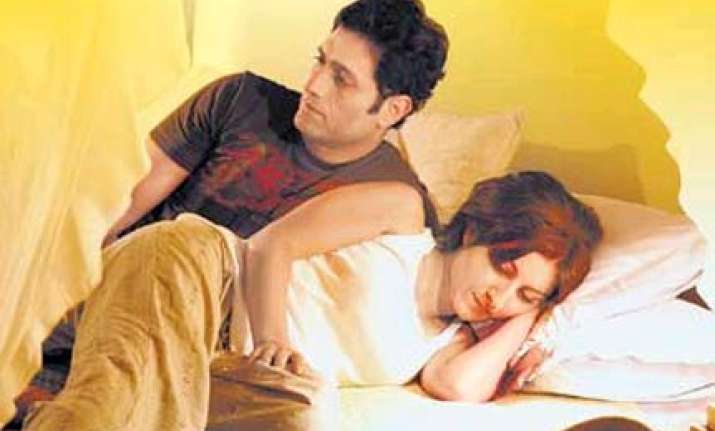 Bollywood actor Shiney Ahuja, who is currently in Delhi on court orders after getting bail in the alleged rape case, will resume shooting later this month in Delhi. He will complete the last schedule for Pritish Nandy Communications' Ek Accident, which was stalled due to his arrest.
Ek Accident, directed by Abhijit Chaudhiri, also stars Soha Ali Khan and Juhi Chawla. PNC is shooting in a hush-hush location as they don't want Shiney to be hounded by the media. This will be first appearance on a shoot after his release.
Almost 95 per cent of the film shooting is over and only three days of shooting is left with Shiney. 
Recently, some portions of the shooting was done with Soha and Juhi in Mumbai. As Shiney can't shoot in Mumbai the shooting for the scenes will be done in Delhi.
One unit member says, "Initially, when the news of Shiney came out, Soha told producer Rangita Nandy and told her she didn't want to do the film and Rangita had to convince her to agree to shoot with Ahuja. Soha will be coming face-to-face with her co-star on the first day of shooting and the producers are jittery. It's a tense situation and they fear anything can happen. They just want the shoot to get completed."
The source feels Shiney has become a humbler man after the whole incident. 
"Gone is the arrogant know-it-all, and he has been replaced by a quieter, more subdued man." PNC's creative director and producer Rangita Nandy says, "It's true that we have some filming left on Ek Accident and intend to complete it as soon as permissible."
Shiney was arrested on July 2 for allegedly raping his maid and was released on October 3.
In the first poster of Ek Accident, producers PNC are playing it safe. They haven't featured either Soha's or Shiney's face in it. They will judge the situation and in the future, posters take a final call if they want to show their lead artist's faces or not. 
Since there is a child in the film, he is part of the first teaser poster. Says Rangita, "It's a teaser poster. All horror film promos start their campaigns with strong teaser visuals. When the campaign opens up, it will feature the necessary actors."
Ek Accident is about a young couple, Aakshat and Nirja, who return from Silicon Valley to set up a quiet residence in a lonely bungalow. As they start settling in their new home, Nirja is rattled by the  unexplainable apparitions that hide in the dark corners of the bungalow. She  loses all control and has to be hospitalised. And then, she figures that the apparitions are not hidden in the bungalow. The center of her chaotic struggle is not with a ghost but with her and Aakshat's relationship. And it is then that Aakshat breaks down. The apparitions re-appear in front of him. But this time, are the apparitions in his head or actually in the bungalow?