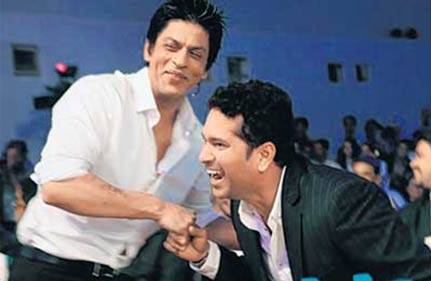 Bollywood superstar Shah Rukh Khan achieved the near impossible recently when he  made Sachin Tendulkar dance, sayys a media report.
At the recently held Sahara India Sports Awards hosted by SRK, Virendra Sehwag was called on stage by King Khan to dance, and Viru, in turn challenged SRK to get Tendlya on the stage.
He even bet the actor that if he managed to do so, he would do anything for him in return. Shah Rukh took up the challenge and brought Sachin on the stage.
An awfully embarrassed Sachin moved sideways, did a small cute jig, and then SRK rescued him and put him out of his misery.
It is a known fact that Sachin seldom attends parties or dances on the stage like his contemporaries. In the past, Sreesanth, Harbhajan, Yuvraj have tried to make him dance but in vain.