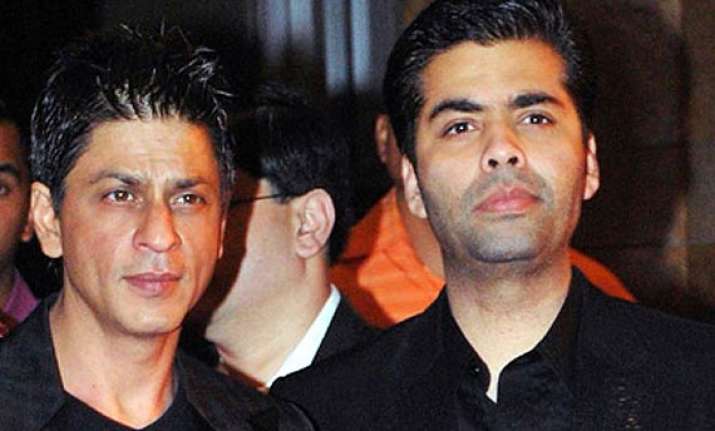 One of the most loved directors of Bollywood - Karan Johar, celebrated his 42nd birthday on Saturday night.
Bollywood was in full attendance to celebrate the director's special day but surprisingly, this time instead of
Shah Rukh Khan
,
Aamir Khan
was seen bonding with Karan.
Well, as per the sources SRK was indeed present there. Yes, the actor made a quiet entry and refused to be clicked by the shutterbugs.
It is very rare that SRK avoids media as he is one of the most media friendly celebs. Filmfare editor, Jitesh Pillai who was also present at the birthday bash tweeted saying, "Happiness is @iamsrk. So good to see u last night. U work too hard but. After partying till 5 he's reached for a 7 am shift at film city"
In recent days lots has been said about Karan and Shah Rukh's friendship and his absence at the party was giving the green light to all that buzz but SRK's presence at the party vanished all the news about their breaking friendship.
Interestingly, the superstar, who is otherwise quite active on Twitter, did not even wish the filmmaker on his official handle. However, SRK's good friend Farah Khan went ahead and shared an old picture of her and Karan and wished the director on his special day.
In the recent interview to a leading daily Karan called SRK as his weakness. "He (Shah Rukh) is there for me when I need him. He will hold your secret very closely to his heart. You can count on him. Shah Rukh was never my friend. He was my elder brother, who replaced my father in my family. He knows me as we have an emotion that goes back 25 years. With Shah Rukh and me, there will never be a phase that we will be apart,"
Shah Rukh's secret entry to Karan's birthday bash, Karan's calling him as his weakness clearly reveals that 'all is well' between them.