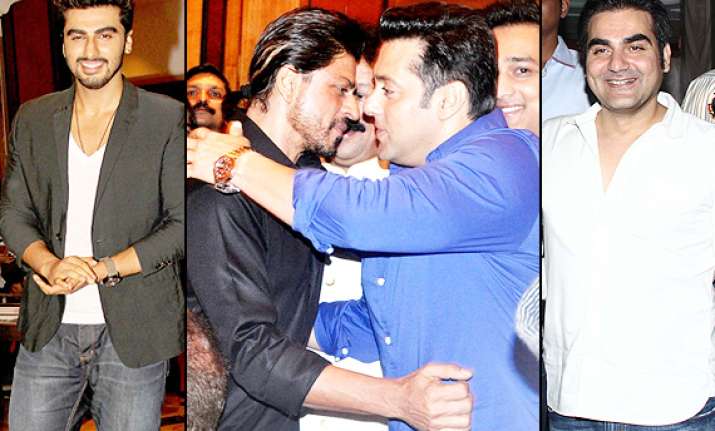 New Delhi: Salman-Shah Rukh's famous hug has been repeated at Baba Siddqui's Iftaar party and a lot has been done and said about the issue. While the act in itself is a sure history, there is a lot more to be added to the issue.
Once the popular rivals, Salman and Shah Rukh didn't only simply hug each other at the bash, but also went a step ahead and shared a brief rendezvous.
In the picture clicked from Baba Siddui's Iftaar party in Mumbai, both the superstars of the industry can be seen enjoying their conversation and having a good time. Earlier too, these Khans of Bolywood have shared friendly moments at an award function.
The fact that these superstars hugged in the presence of hundreds of more guests make the issue more highlighted.
The known faces in the party who acted as the witness of this act of the year include the names of Baba Siddiqui himself, Arbaaz Khan, Sohail Khan, Suniel shetty, Madhur Bhandarkar, Aditya Pancholi, Arjun Kapoor, Ajit, Sajid Nadiadwala, ex-home minister of India, Sushil Kumar Shinde amongst many other notable names.
Salman Khan's father Salim Khan too happened to be sharing the presence of both Salman and Shah Rukh Khan in the party.
Now, as the history has repeated itself, we are happy that so many reputed faces of the industry enjoyed being the live witnesses of the heroic moment.
We wish to see more of such friendly gestures in future!