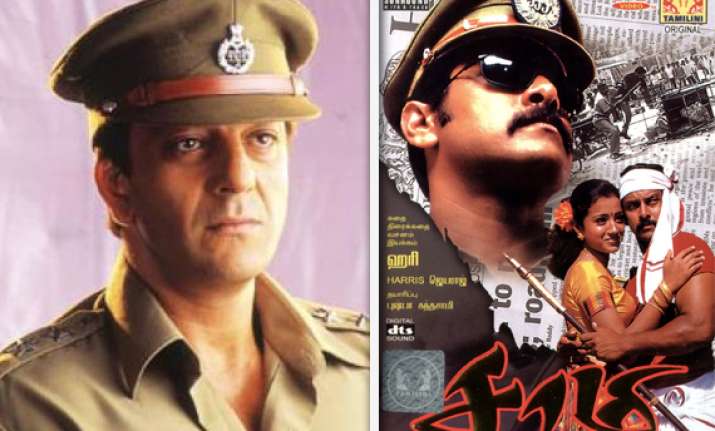 Mumbai, Dec 24: Bollywood actor Sanjay Dutt is all set to play a supercop in the Bollywood remake of the superhit Tamil film Saamy (2003),tentatively titled Thanedaar Returns, says a media report.

The report said, KS Ravikumar (who has made Dasavathaaram with Kamal Haasan and currently has Rajinikanths Rana on floors) will be directing the film,while S Kumar Mohan will be producing it in association with son Atul Mohan,Dharam Oberoi,VK Singh and PG Shreekanth. Shooting for the film starts in March 2012.

Says Dutt, "It's a hardcore action flick with a fantastic story. I haven't performed such action sequences in a long time so I'm very excited about the role.

"What I love best is the honesty in Saamy's character.

"Though he appears corrupt and accepts bribes, he later succeeds in getting rid of corrupt politicians. Saamy is a cool super cop the kind who eats idli with beer!

Dutt has three months to whip himself into shape, and says he's already lost a lot of weight for the part.

"I've been working out for two hours everyday and am also on a special diet that includes grilled fish, chicken, salads, fruits, lots of protein shakes and health drinks", adds the star.

Dutts rigorous workout regime which he has designed himself includes a mix of cardio, weight training and TRX Training.

He explains, "It's a kind of rope apparatus that lifts your body weight, helping to build lean muscle, boosts your metabolism, tightens your core muscles and increases endurance and flexibility.

"Ranbir (Kapoor) introduced me to it,and Shah Rukh (Khan) and Ajay (Devgn) use it too."

Explaining why he chose Saamy as his next film, producer S Kumar Mohan says, "We have mostly seen cops in corrupt avatars in Hindi films,but thats only one side of the story.

"After the success of Dabangg and Singham,the police story seems to have become popular."

Mohan adds that Anirudh Ravichander (who composed the viral smash hit Kolaveri Di) is the music director,while Prakash Raj will play the villian.

Thanedaar Returns is scheduled for a Diwali 2012 release.