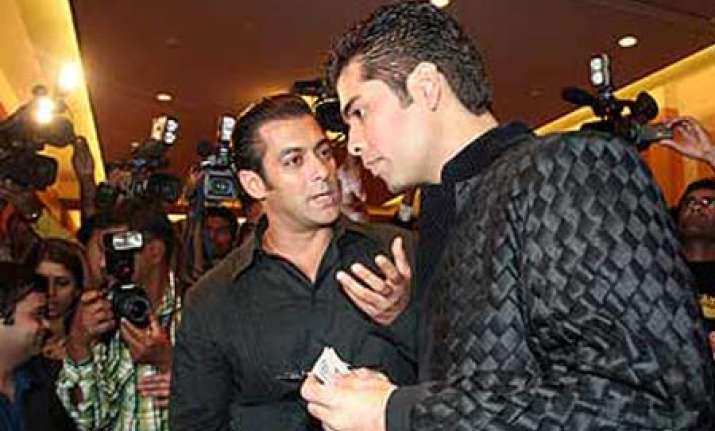 Bollywood star Salman Khan  may soon be seen on Koffee With Karan show, says a media report.
Karan Johar
is close to Salman's opponent
Shah rukh Khan
, but on Saturday night, KJo and Salman were together at the latter's apartment and the partying continued wee hours of Sunday morning, says the report.
For this season, Karan Johar has been wooing star guests who have never been on his show before.
Aamir Khan
and Kiran have confirmed their presence on the show to promote her directorial debut Dhobi Ghaat.
Akshay Kumar
whose Tees Maar Khan releases on December 25, has also received feelers to grace the show with his wife Twinkle Khanna, and has been told he can use it to promote his film.
Last year, the Dabangg actor was interviewed by Karan Johar for his other TV show Lift Kara De but the actor has never been on KWK, and the host is keen that he join the elusive guest list this year.
Says an industry source, "Sometime back, Karan had asked Bhai (Salman) to come on the show. And Bhai told him that he was willing to come on the show if he was paid. Karan pointed out that none of the celebrities were paid to be on the show.
"To which Salman said that even he didn't want the money (R 50 lakh) for himself, but for his charity Being Human.
"KJo said that it was not a norm to pay actors to be on the show and the channel would not shell out big bucks for it, but he would give a personal cheque to the actor, because he was keen to have him on the show.
"Knowing Bhai's sense of humour, one can't be sure if he was serious or joking about wanting the money."
On Saturday night, Salman and Karan bonded. Hrishant Goswami was also present. The model impressed Khan with his attitude in the Bigg Boss house, was evicted on Friday night, and was also present at the bash. Hrishant is a family friend of the Johars, which explains why the trio were together.