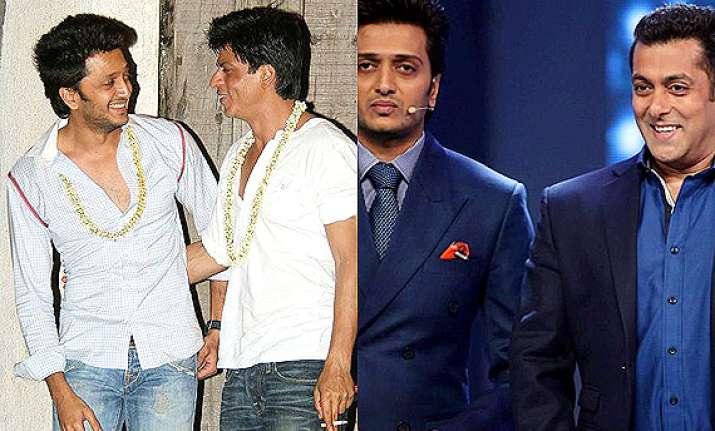 New Delhi: Shah Rukh and Salman's war is not a new thing to talk about. The world knows that the two men just don't get along.
This war is grabbing the limelight from years and even after hugs and so many efforts the things between them didn't sorted out. The news was brewing that Sallu bhai and King Khan may patch up but as for now the things remains the same. 
Even the industry people are divided into two teams, one with Shah Rukh and other with Salman.
But now there is a new twist in the story. As per the latest buzz, Riteish Deshmukh who shares a close friendship with Shah Rukh has approached Salman Khan to make a special appearance in his and Genelia's first production venture, the marathi film, 'Lal Bhari'. To add more to it Salman Khan has agreed to do so.
 It seems that Riteish has dared to break all the boundaries and go beyond that.
Shah Rukh and Riteish share such a great bonding that the man has partially designed SRK's office as being an architect.
Even though Riteish and Shah Rukh share a good friendship, it is Salman who will be doing cameo in his film.
No doubt Riteish is popular among all the 'camps' in the industry, it is possible that his closeness with Salman will not be accepted by Shah Rukh.