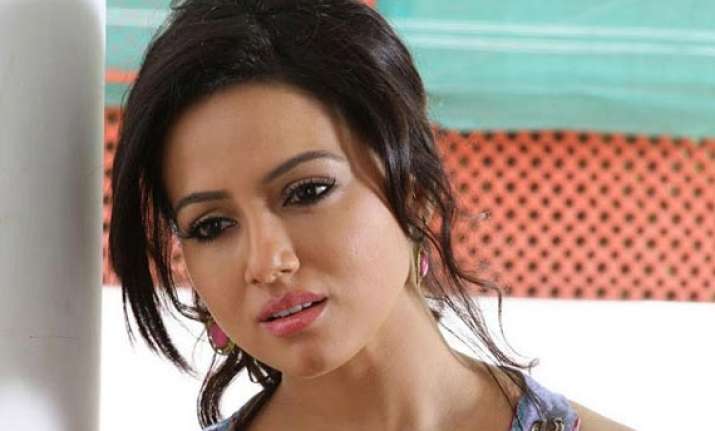 Mumbai June 17: Salman Khan's 'Mental' co-star Sana Khan didn't turn out for her hearing over the bail application filed over the 15-year old girl kidnapping case, in the Thane Court here  today.
The court today posted the matter for hearing on June 20  where she has to be  present. Sana Khan is said to have given  some personal reasons for not turning up at the court,  while Turbhe Police is of the view that the actress since the brawl has gone underground. Police wants to take her into custody.
This is the third time that the actress skipped the court's hearing.
Meanwhile, the Big Boss 6 contestant is on the run after being booked by Navi Mumbai police for trying to kidnap a 15-year-old girl who had rejected Sana's cousin Naved's marriage proposal.
It has been alleged that the actress decided to teach her a lesson.
Sana's cousin Naved and his three friends were arrested, and were out on bail.
The case was registered on April 30 in Durbhe Police station of Navi Mumbai.  Naved fell into a romantic liaison with the minor girl through Facebook last year and proposed marriage, which she refused.
The minor girl's family alleged that on April 30, Sana with her cousin Naved and his friends Kshitij, Vismit and another person went to Sanpada and tried to abduct the girl by forcing to sit in their car. The girl managed to escape and her mother lodged a complaint in Turbhe police station. Naved and his three friends were arrested, but Sana gave police the slip.
Police went to Sana's Oshiwara house but she was not there. Sana is also absent from the shooting of Salman Khan's film Mental, throwing the schedule haywire.