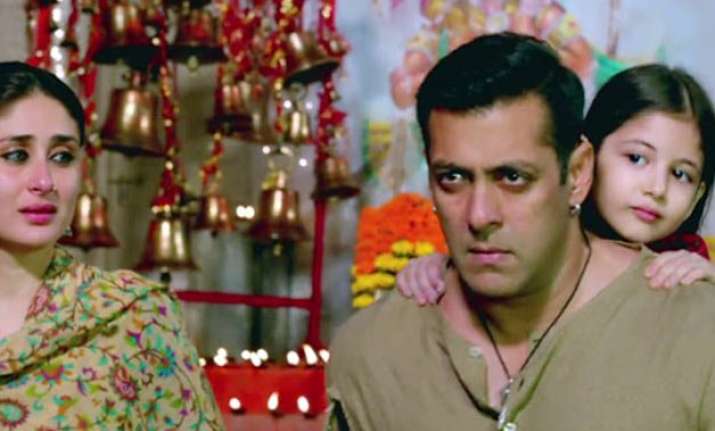 Lahore: The 'Bajrangi Bhaijaan' fever has gripped audiences in Pakistan. Thanks to the positive Indo-Pak message in the movie, that it has received a phenomenal response, with people thronging to watch the film even a week after its release.
Theatre owners claim to have witnessed a record number of people leaving cinema halls misty-eyed, after watching the movie, which tracks the story of a Bajrangbali (Hanuman) devotee Pawan Kumar Chaturvedi's (played by Salman) journey from India to escort a six-year-old girl back to her village in Pakistan.
"I have been working in this business for the last seven years but I never witnessed such a large number of people coming out of the cinema hall. They have tears in their eyes after every show of Bajrangi Bhaijaan," said Shahram Raza of Cine Star Cinema in Lahore.
He also said people look very excited while buying tickets for Bajrangi Bhaijaan.
"As the show ends, most of them, especially women come out with tears in their eyes. In other movies, people come out talking loudly when the show ends but in the case of Bajrangi Bhaijaan I hardly hear any chat," he said, adding that because of the emotional storyline, people can relate to the film.
Some youngsters in Pakistan have watched the movie twice including Momina Rana, who thinks it, is perhaps the first Indian film in which Pakistan is shown in a positive light.
"The general public in both Pakistan and India is peace loving and that is why this movie is so widely appreciated here and must be, out there (India) as well. I would love to watch this movie again and again as such a film is not made every day," she added.
Pakistan Film Exhibitors Association Chairman Zoraiz Lashari said that the Eid holidays were very well spent this year, all thanks to Bajrangi Bhaijaan.
"There has been a phenomenal response from the public as over 80 cinemas of the country are jam-packed since Eid (July 18) to watch Bajrangi Bhaijaan. People from all walks of life and of all age groups are standing in queues to book their seats in cinema halls for it," Mr Lashari told PTI.
He said the film, which also stars Kareena Kapoor Khan and Nawazuddin Siddiqui, has entered into its second week and is still delivering a tremendous performance at the box office.