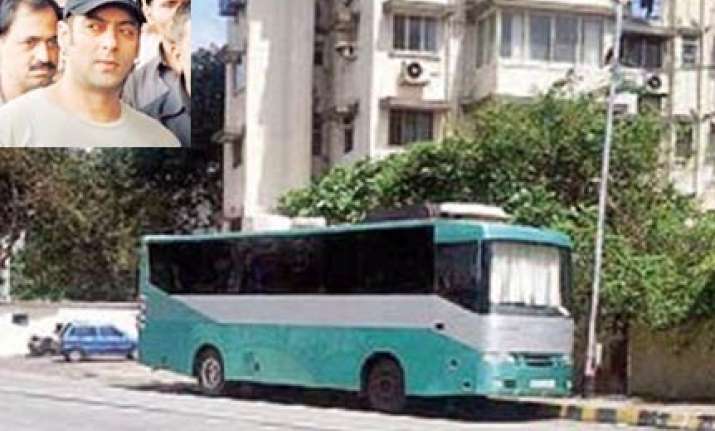 Bollywood actor Salman Khan was on Monday fined Rs 1,200 by the traffic police for parking his vanity van outside his home at Galaxy Apartments, Bandra, reports Mumbai Mirror.  
This followed a written complaint to local police and Regional Transport Office by residents complaining about the vans of stars Salman and
Shah Rukh Khan
which, they alleged, were inconveniencing them.  
Not too long ago, a teenager had skid off his bike and rammed into Salman's van. Though no official complaint was lodged with the police, he suffered minor injuries.
A few days later, a young girl, who lost control at high speed, had crashed into the van. She was helped by Salman's father Salim Khan, who arranged for her to be dropped home safely.
In a city known for its Bollywood glitz, spotting giant vanity vans - with their tinted glasses, customised exteriors and luxurious interiors - parked outside an actor's famous home, often comes a close second to star-gazing.
However, with Mumbai increasingly running out of patience and space, these multi-million giants are proving to be a bone of contention between irritated citizens and Bollywood stars living in their neighbourhood, says the Mirror report.
Residents allege that not just Salman, but Shah Rukh too parks his customised vehicle on the road adjacent to his house, Mannat.
"These vans are a nuisance. They shouldn't be parked on public roads. They cause a lot of traffic problems but the BMC is equally responsible for this problem," said Rahul Bage, a management professional.
Another resident, Manuel Fernandis agreed: "I agree there is no space inside the premises for these vans, but an alternative spot must be found. These vans not only disturb the serenity of the neighbourhood, they also cause traffic jams."
Vijayalaxmi Vettegauda, Senior Inspector of Bandra traffic police, said that Salman had agreed to find an alternative parking spot for his van. "We went to Salman's residence, where he was busy dubbing with Sonakshi Sinha. He wanted to know whether we are taking similar action against all illegally parked vehicles in the vicinity. We explained that any private vehicle could be parked on the road unless it is a no-parking zone. But if the vehicle was obstructing traffic or someone if complained to the police, the owner had to be fined," she said.
The cops booked Salman under the Mumbai Police Act and fined him Rs 1,200. "As far as Shah Rukh's van is considered," Vettegutta said, the van is parked in a spot owned by him. So there is no question of a fine.
While the fine amount may have been negligible, there is, a very real problem. Though there are no issues while these vans are parked on set,  not many of these mobile trailer owners have the space to accommodate them when they're not shooting.
Dilip Chhabria, who has customised several vanity vans for Bollywood stars, says the problem is largely with vans hired by production crews than those owned by actors such as Salman and Shah Rukh.
"I don't think the stars inconvenience traffic or block roads with their vans. They look after them very well and usually park them correctly. Most vans that cause problems belong to members of the crew who deal with various production tasks."
But A R Nair, an activist and complainant, argued: "These are some of our biggest stars but it is necessary to do something about these vans. Accidents take place now and then  But are we waiting for something serious to happen before taking action?"
A source close to Salman said,"In Mumbai, parking is a big problem. Where does one park his car if not outside his home?" His secretary Vikas Kapoor, however, declined to comment. Neither Shah Rukh Khan nor his spokesperson were available.
Meanwhile, RTI inquiries have revealed that several vanity vans used for commercial purposes not registered as Transport Vehicles, and are therefore illegal.
In some cases, the actors are not even aware that the vans assigned to them and hired by their production units are not recognised as per the Motor Vehicle Act and they cannot claim insurance if anything goes wrong.
Replying to an RTI query, the transport department admitted no vehicle can be rented unless it is registered as a Transport Vehicle.
Transport Commissioner D G Jadhav said, "Most of the vanity vans are meant for personal use and are registered as private vehicles." The vanity van operators association, however, openly distributes a tariff card for them.