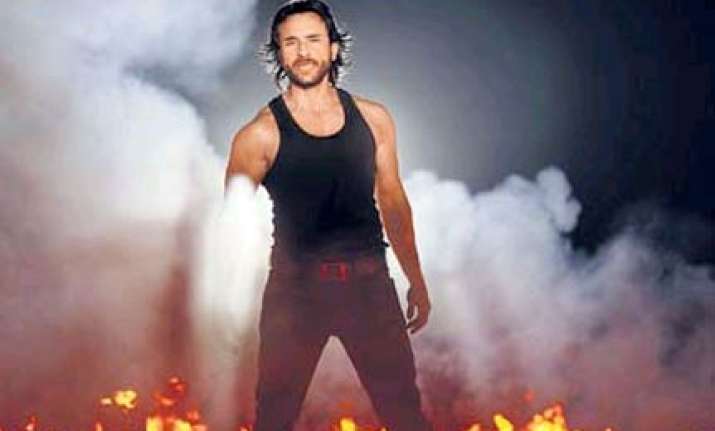 The promotional video of Kurbaan, which was shot weeks ago, shows Saif Ali Khan in a completely new avatar.  It has been made to the tune of The title track Kurbaan Hua.
Says Director Rensil D'silva, "I wanted to make an abstract video. Something very different than putting six girls in a line and making them dance. I mean that's also fine, but Kurbaan is a very different film.  The genre is dark and intense so the Kurbaan Hua video is in keeping with that mood. Saif's look is very different from anything he's done before and the credit goes to Bosco for directing it so well."
The video is a collage of abstract images of a man in torment and pain. "There are scenes where Saif is whipping himself. We have used the elements of the earth, wind, fire and water. Then there are also references to Adam and Eve, with Saif biting into an apple only to find it's rotten."
Calling the whole feel gothic-meets-grunge, he adds, "Saif knew exactly what we wanted and went with it. In fact, he even grew his hair a longer for this look. You see him wear a hood and jacket in the song that actually is a reference point to a very important scene in the movie. Watching that scene triggered off this video idea for me."
Kareena was to be in the song as well, but since she couldn't make it, they have used her image. "There's a image of her burning in the backdrop with Saif in the front. There is an undercurrent of passion and loss throughout the video."