Follow us on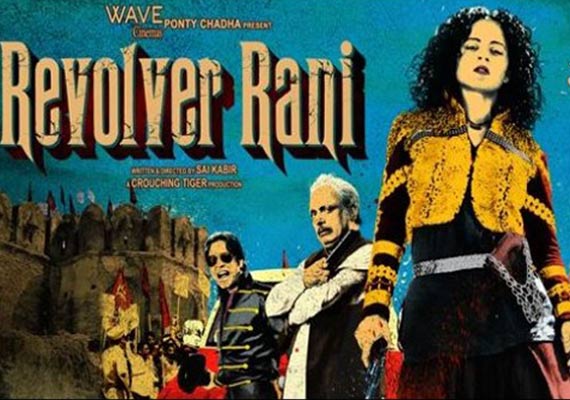 It isn't a entirely comical nor fully serious but Kangana once again takes her share of applause from us and it could be watched for her.
Ratings- ***Stars- Kangana Ranaut, Vir Das, Piyush Mishra, Zakir Hussain
Director- Sai Kabir
Music director- Sanjeev Srivastava
Revolver Rani is a rom com which goes into the deadly world of goons, where guns speak in volume.
Sai Kabir, who has Kismat Conncetion and Lahma to his credit for story and screenplay, has come up with a unique masala entertainer, which once again doesn't allow your conscious to emphasise much over the logics of the story.
It sails through revenge, politics, lust, conspiracy and finally exit with a heart-breaking climax. Sai Kabir's first time direction is noteworthy in this flick, which isn't flawless but most of all stresses on women empowerment.
Alka Singh (Kangana Ranaut), is a gruesome leader of a political party in Madhya Pradesh but falls weaker for her love Rohan (Vir Das) who is a struggler in Bollywood. On the other hand, Rohan wants to use her as a ladder to climb up in Bollywood but he ends up being her lust instrument.
The opposition- the Tomar party headed by Udaybhan Tomar (Zakir Hussain) along with brother Govind Tomar (Pankaj Saraswat) want to destroy Alka completely and when they realise about her love interest they plan to deal with it emotionally.
How Rohan finds himself trapped in this whole political fuss and how Alka saves him from being targeted by the opposition party, Kabir Sai narrates this complete scenario in his unusual mode of satirical and dark humour.
Though, mostly unbelievable but the Revolver Rani has its heart at right place. With numerous flaws banging on the weak screenplay, the flick celebrates the undying spirit of a woman. However, it's not the first occasion where we are witnessing women as a central protagonist. Bollywood is flooded with examples and recent dramas like Queen and Gulaab Gang are among them. Kangana's 'Revolver Rani' could be termed as a half successful addition to those genres. It works in parts and more often relies upon the dark humour.
The politics and the insight discussion aren't executed well. We get to know that there is an old age personal rivalry between Alka and Tomars but it doesn't carry the required weight. Bullets of the guns go over the top and you aren't able to get what is being targeted.
From a comic caper rivalry to a sudden serious turn makes you go berserk. The desi politics of MP could have been used appropriately but the attitude of goons and politicians aren't for real and don't go down well with the plot. Director sometime isn't able to decide that whether it should be a dark comedy or a serious drama. Moreover, the marriage of Alka and Rohan near Taj Mahal in Agra looks non-essential. Why is Kangana and her gang fantasized with Michael Jackson is still a mystery.
But talking over the positive sides, the flick has plenty of fun to keep you hooked on ot your seats. Particularly the dialogues, written by Kabir himself, will surely be liked by the masses.
The characterisation of the characters in the land of dead is mostly humourous. Alka loves 'phasion' and so she loves designer metallic bra from Italy which only she could dare to don. She even is differently wild when wants to play with her 'toy boy' Rohan. Such is the psychology of Alka who, is least bothered about what people say about her.