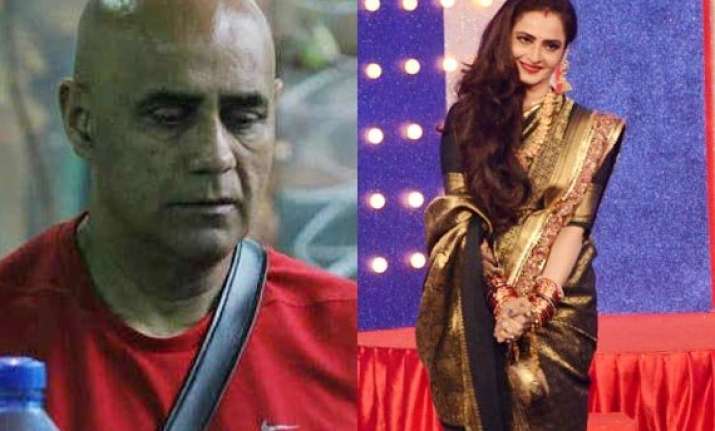 New Delhi: Rekha, the timeless diva visited the sets of controversial reality show Bigg Boss to promote her upcoming film 'Super Nani'.
Salman and Rekha shared the stage after ages. From flirting with each other to sharing secrets from past Rekha and Salman did everything to make it a superhit episode.
Rekha revealed many secrets of Salman like Salman Khan had a huge crush on Rekha when he was a kid. Rekha told how Salman would follow her around bandstand on his cycle, while Rekha would go out for walks.
Well, apart from these things the one thing that caught out attention was Rekha's cold attitude towards one of inmates that is Puneet Issar.
Rekha was seen quite interactive with all participants and had a jolly good time but she gave a royal ignore to Puneet. In fact, when she went inside the house, she greeted everyone with a hug, but when Puneet tried to hug her, she walked away. Even when everyone was biding adieu to the beautiful actress Puneet was standing far behind.
If you don't remember then we would like to remind you that it was a fight sequence between Amitabh Bachchan and Puneet Issar in 'Coolie' where Big B was seriously injured, which even risked his life.
Though the incident happened almost 30 years ago, it seems that Rekha is still miffed with Puneet over the incident.
While shooting for Coolie, Puneet had accidentally caused a serious injury to Big B, after which Puneet Issar became a national villain. As it was reported that time, Amitabh and Rekha was quite close during that era and due to this incident Big B had to live in hospital for months along with family including Jaya.
The time that Amitabh shared with Jaya, changed his decision towards Rekha and he maintained distance from the lady after this accident. Well, this may be the main reason why Rekha still hasn't forgiven Puneet.
There is no second thought that episode was high on entertainment but Rekha's cold attitude towards Puneet gave gossip maker a good point to discuss on.