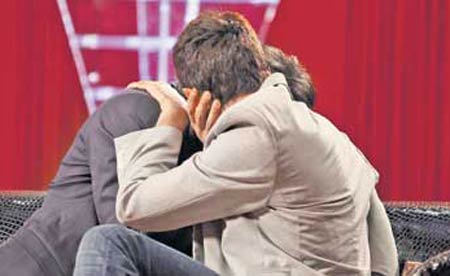 Bollywood actors Ranbir Kapoor and Imran Khan found a unique way of putting an end to the speculation around their cold war by cheating a liplock in Koffee with Karan show, reports MidDay.
They also used the kiss to encourage KJo to cast them in his Dostana sequel.
They demanded that KJo live up to a promise he made to them during an awards show (of casting them in his film). They reminded him that they got an underwear each as a signing token from Karan.
A source who was present during filming says, "They were a riot on the show.
They were all over each other and if they have a problem, it didn't show. To convince Johar that they would be just as compatible on screen, they ended up kissing twice!
Karan was totally taken aback by their madness. After they kissed the first time, the host asked them to do it again as they returned from a commercial break. 
Without hesitation, they embraced each other and broke into another kiss!"
Before the shoot, Ranbir had matched dates according to Imran since the latter was in the middle of a shoot. 
"It didn't seem like there was any rivalry between the two. Ranbir graciously adjusted his dates for Imran. They were seen joking and having a long conversation before the shoot."