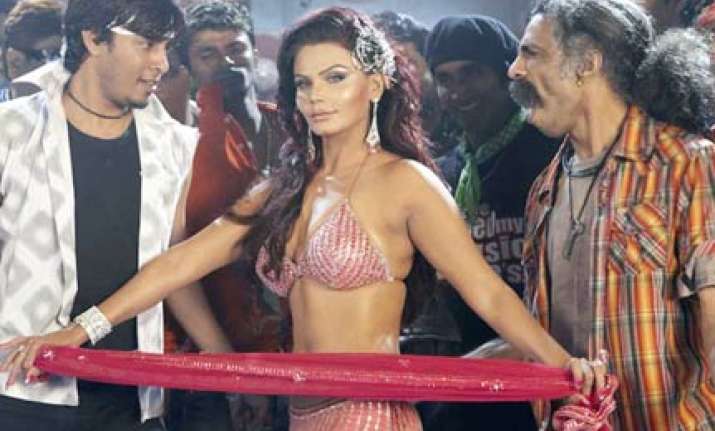 Item girl Rakhi Sawant has thrown her lot with Raj Thackeray's Maharashtra Navnirman Sena's demand for putting an end to employment of foreign nationals in Bollywood.  
With foreign actors working in Bollywood the latest target of MNS, the Marathi actress is one of the few public figures to give vocal support, 'Because of these foreigners, our Indian girls remain jobless,' she told The Hindustan Times. 'These white girls are like lollipops that only last for two days.'
But the fact that remains is that Rakhi Sawant's Buddha Mil Gaya remix video, was shot with none other than a troupe of Mumbai based foreign dancers. 
The video for Rakhi's remix of the track Main Kya Karun Raam Mujhe Buddha Mil Gaya from Raj Kapoor's Sangam, sees the actress dressed as a sexy construction worker supported by those same foreign dancers she compares to lollipops.  
In Rakhi's Dekhta hai Tu Kya song from Krazzy 4,  once can  spot a number of foreign guys in the Mumbai shot video.  
The move against foreign actors comes after the MNS raided the sets of Abhishek Bachchan starrer Crooked. 
A British extra said, "Eleven people turned up at Mehboob studio trying to demand money from the film unit. What I saw was extortion, pure and simple. It seemed to be about getting money from the crew, and had nothing to do with anything political'.
Recent years have seen a significant growth in the number of foreigners in Hindi film, recruiting overseas actors and dancers based in Mumbai, or tourists found in backpacker haven, Colaba. 
Bollywood has also attracted big name international actresses in recent years, from Kylie Minogue chiggy wiggying with Akshay Kumar in Blue, to Alice Patten seen in the lead role in Rang De Basanti. Tania Zaetta who features in Yash Raj outings Bunty aur Babli and Salaam Namaste, as well as British born 'Search for a Bollywood Star' entrant Hazel who debuted with Mera Pehla Pehla Pyaar, have based themselves in India to work in the industry.