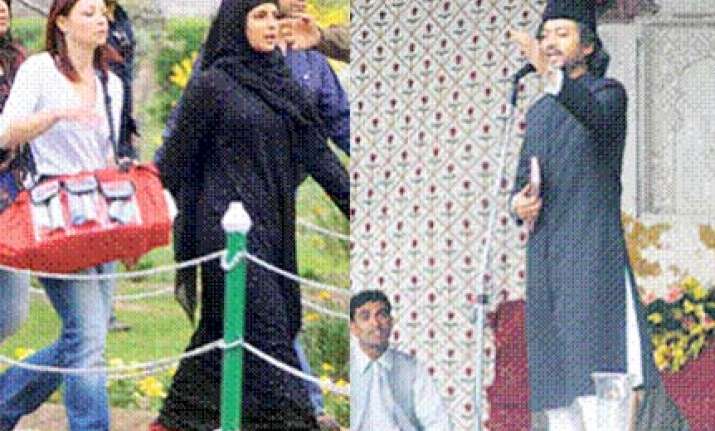 Vishal Bhardwaj's much-talked about film Saat Khoon Maaf was shot in Srinagar's famous Shalimar Gardens on Friday, in which actress Priyanka Chopra sported a Muslim burqa, says a media report. 
Priyanka Chopra seems more than ready to play this challenging role, in which she kills her seven husbands.
Dressed as a Muslim woman complete with a salwar kameez and burqa, Priyanka and Irrfan Khan, who plays one of her husbands, were shooting at Srinagar's famous Shalimar Gardens. 
The beautiful garden was built by Mughal Emperor Jahangir for his wife Nur Jahan in 1619.
The stars were shooting amidst tight security and enthusiastic tourists were asked to keep off some areas of the garden where the shooting was on in full swing and they were a little disappointed on being told not to click photographs of the actors. 
Besides Irrfan, Naseeruddin Shah, his son Vivaan Shah, John Abraham, Neil Nitin Mukesh, Anu Kapoor and an undisclosed Russian actor play Priyanka's husbands.
Priyanaka had recently said in an interview about the film Saat Khoon Maaf: "I have been so lost … this film … 'Saat Khoon Maaf' is taking the mickey out of me … the most difficult role of my life," Priyanka, who won the best actress National award for her powerful performance in "Fashion", wrote on her Twitter page.
"Saat Khoon Maaf" is being directed by Vishal Bharadwaj. In the film, Priyanka has seven husbands – while Naseeruddin Shah plays her oldest spouse, Neil Nitin Mukesh has just been signed to play the youngest.
The actress was previously seen in Bharadwaj's production venture "Kaminey".