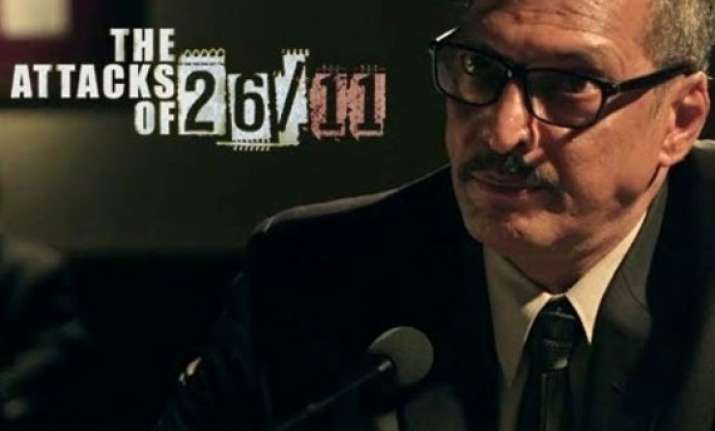 New Delhi, Feb 27: The day when not only the nation but the whole world stopped under one of the most disastrous event which took place in Mumbai on 26 November 2008, is like a nightmare to many. Reinventing it through a crime drama would be a big responsibility for any filmmaker.
Ram Gopal Verma, mostly known for his horror and underworld gang warfare flicks has taken up the brutal attacks of 2008 and tiled it "The attacks of 26/11". This Friday the flick will hit the theatres and spectators along with critics are waiting for the most intensive drama on the big screen.
'The Attacks of 26/11' is about the tragic events of 26th November, when 9 trained terrorists held Mumbai hostage for 60 hours causing Mumbai under terror. But the flick portrays the event of the night of the incident between 9 PM to 1 AM until Ajmal Kasab was caught at Chattrapati Shivaji Terminus Station in Mumbai.
The first seven minutes of the flick has already aroused a lot of buzz where terrorists including Kasab is seen venturing into Mumbai through the seashore. Kasab's portrayal by 1 among 500, Sanjeev Jaiswal resembles a lot alike him. Yes, RGV among the 500 applicants choose Sanjeev for Kasab's role to make the incident more authentic.
Nana Patekar will be playing the role of the Joint Commissioner of Police (Crime), Rakesh Maria. And as seen in the promo, the actor is seen narrating the story in the court.
Making the flicks in bilingual languages is in fashion now-a-days, therefore, the 'Attacks' is shot in Hindi as well as in English providing a comfortable zone for national and geographical audience. Also it will be the first time for non-English Nana tossing up his tongue for the international dialect.
The flick's album has four tracks out of which only one track "Maula Maula" by Sukhwinder Singh scores in the background.
RGV's last few projects including Bhoot returns and Depatment have proved disaster but this one varies from all the other. It would be interesting to see that the 'attacks' hits audiences' hearts or fails to win the battle.
The 'Attacks of 26/11' will hit the theatres on 1st of March.