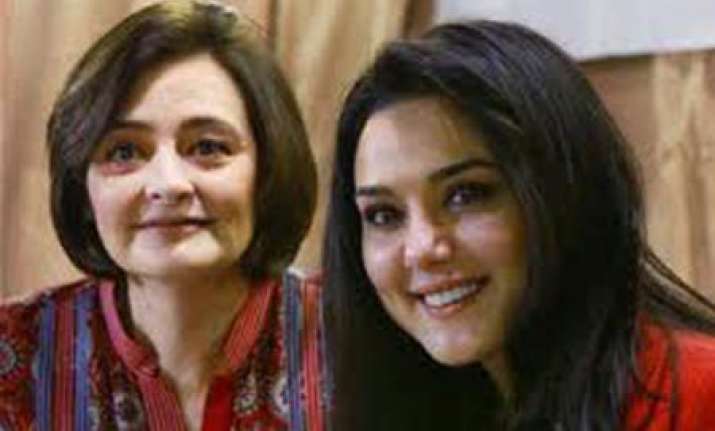 Cherie Blair, the former British Prime Minister Tony Blair's wife, is coming to India in December on an invite from actor Preity Zinta, reports Bombay Times. The only person to rub shoulders with her from Bollywood will be Preity Zinta, says the report.  
The report said Preity and Cherie bonded recently when they met at the annual Diwali charity auction in Britain hosted by The Loomba Trust that has been generously supported by former Prime Minister Tony Blair's wife. Cherie's trip will focus on philanthropy and Preity and she will work to find solutions on how to uplift the conditions of the underprivileged and needy here.
Preity and Cherie talked on several issues like healthcare, infant mortality rate, female foeticide and the need for nutrition for most pregnant women in India.  
The pert and sassy actress was surprised to see how clued on Cherie was about these conditions in India and wanted to do things for the country to see a marked development in these and other areas. Poverty and the issues stemming from it were also discussed.  
Cherie, who has ambitious programmes to set up in India to help the needy, told Preity that she was coming for a quick visit and that it would be great if both of them worked closely on these
projects.
The actress also agreed to work with Cherie globally as the trust has expanded and works in 13 different countries besides India. She will thus become somewhat of a face for the plans.
Meanwhile, Preity is secretly planning to host Cherie and throw a lavish dinner in her honour when she visits Mumbai. The invitees will be few as Preity wants likeminded people to interact with her guest at this constructive platform.  
The actress confirmed meeting Cherie Blair and the former first lady's visit to India. The dinner question, Preity dodged and said, "I cannot say what I'm planning to do for Cherie as it is really in the planning stages."