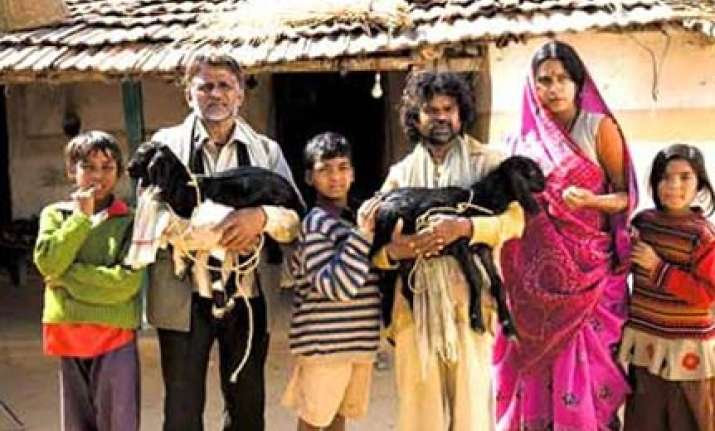 New Delhi :  It was a role coveted by Aamir Khan, but Omkar Das Manikpuri, who plays the lead in 'Peepli Live', made the superstar step aside for him with his performance at the casting auditions.
Director Anusha Rizvi auditioned the newcomer for a small role but he was cast as the protagonist Natha instead by Aamir even though he himself was keen to play the character.
"Aamirji and Anushaji (director) saw my audition and he told me, 'Omkarji I was planning to play Natha but I am very impressed with your audition. Only you can play Natha'. It was the happiest day of my life," Manikpuri told PTI.
The 40-year-old, who hails from Brindanagar village of Chhattisgarh, was first spotted by theatre great Habib Tanvir in a street play. Tanvir brought him and two other members from his village to his group Naya Theatre in Bhopal.
 "I started singing folk songs in my village group when I was 17. I also started taking part in street plays about education. We would travel village to village and perform. After we performed in 200 villages, a function was organised and Habibji came as a chief guest. That's where he saw me performing and offered me work in his group," says Manikpuri, who has studied upto fifth class.
Manikpuri's family and his three children are still in the village and are glued to TV and call him whenever they spot him in the film's promos.
"My children are very happy. They just called me. I am very excited about the film. I am the first actor in my family so they all are very happy to see me in such a big film," says the actor.
 The film, also produced by Aamir, deals with issues like the growing rural and urban divide and the farmers suicide. 'Peepli Live' releases this Friday.
Manikpuri is far removed from the world of politics but he has a clear take on the issue of farmers' suicide.
"If farmers stop farming what will happen to the city people? What will they eat?," questions Manikpuri, whose father was a labourer.
"Villages are in bad shape. They are poor and inflation has worsened things," he adds.
Talking about his future plans, the theatre artiste says he would like to continue acting if he gets more offers in Bollywood.
"I would love to do more films here. That is if I get work. In fact, I would like to be cast alongside Aamirji since he could not act in this film because of me," says Manikpuri. PTI