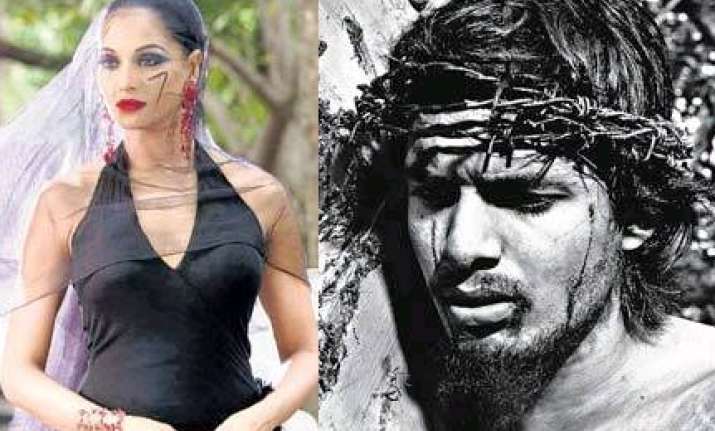 Director Sudipto Chattopadhyay is now worried that his film, Pankh, which deals with gender issues and stars Bipasha Basu and newcomer Maradona in lead roles, may raise the heckles of leading lights from the Christian community because it has some graphic images depicting the crucifixion of Christ, says a media report.
The film has already got an 'A' certificate from the Censor Board. Concidentally, Pankh opens on Good Friday, a holy day on the Christian calendar.
The first-time director says, "I want to make it clear that the intention was not to cause hurt or trauma to any religious group or sect. The crucifixion scene is something that happens in the mind of the protagonist Jerry (Maradona). It's a surreal concept that shows the suffering he went through, throughout his childhood. Jerry is a devout Christian and his mind draws parallels between his pain and the pain Christ went through. It's a visual metaphor used to show the apparitions of his mind."
There is also a scene with Maradona carrying the cross on his shoulder, like Jesus did before he was crucified.
Another scene shows Bipasha reciting the Lord's Prayer in a graveyard. "Bipasha is more like a persona, she's a figment of Jerry's imagination and doesn't exist. She puts words to his thoughts and shows the complexities of his mind. Her reading the Lord's Prayer (the 'Our Father', a most sacred  for Christians) shows the trauma Jerry experiences."
He concludes, "I think the Christian community is highly tolerant and in the past have protested in a highly civilised manner. The visuals in the film are not my religious views or ideology but my protagonist Jerry's thoughts." Pankh releases on April 2.