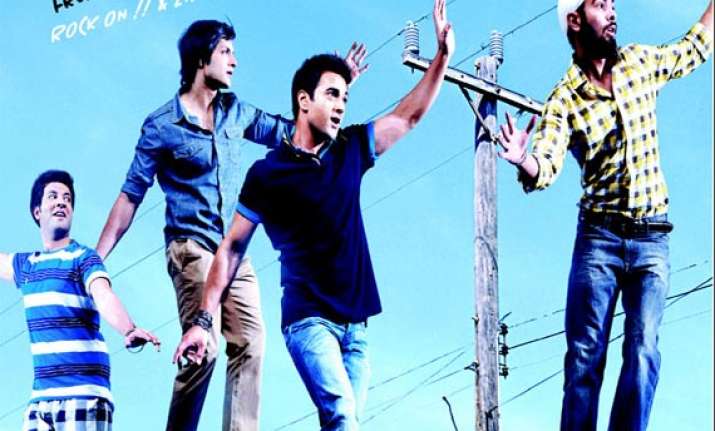 Ratings-***
For those of you who were disappointed with the Deols trio's bizarre comedy 'Yamla Pagla Deewana 2', here is another drama from the same genre but way ahead of Papaji's unnecessary laugh riot.
Fukrey kicks off with the two kickass pals Hunny (played by Pulkit Samrat), Choocha (played by Varun) own nothing in their life except big dreams to make it to a big college in the city and woo girls around them. Lali (Manjot Singh) who has a similar tint and Zafar (Ali) who needs money for his ailing father joins the group to hit jackpot. But for this they need a big investor. Enters Richa Chadda, who is full of abusive lingo. She does all the illegal work to make money without hesitation and regrets nothing.
Finally she invests into the plan of the four trouble makers. But the day isn't lucky for them anymore and everything gets messed up. How will they recover all that was lost and will Bholi Punjaban forgive the four notorious buddies? That is how the story deals further.
Director Mrighdeep Singh Lamba pumps in a lot of gags in this 'get rich fast trip' to keep you interested in the proceedings but goes overboard. Agreed there are those very funny moments but he stretches them too far, going on and on in the already lengthy movie.
The first 15 minutes of the movie are sluggish and slightly boring, but thereafter, the sequences that follow are hilarious and truly entertaining.
What amuses you most is Bholi's lingo which is just side-splitting. The gags and punches in the enterprise, more so towards the post-interval portions, are truly funny.
The movie has its negatives too. There are sequences that could have been made better and hilarious to match a perfect ending for a comic carper. The two songs are just uninvited.
But it surely provides ample of laughter and entertainment in the final tally. The four actors share a great chemistry and their comic timing is brilliant. The two friends Pulkit Samrat and Varun are the most notorious.
Dialogues by director Mrighdeep Singh Lamba, and Vipul Vig could have been better to suit the sequences at most times.
Set is Delhi, you will get to see the local streets in abundance.
Varun, who debuts in this flick leads with his brilliant performance. His confused and jolly nature is truly admirable.
Punit is cast in a role that suits his persona. He handles his part with remarkable ease and emerges as a winner.
Manjot, the Punjabi guy tickles us with his amusing dialogues. He too delivers a good show.
Ali Fazal is not that notorious among four but it was his character which required him to be restrained.
Richa Chaddha from a gangster's wife in Gangs of Wasseypur to a gangster herself here plays it brilliantly. She is tough to handle for anybody as she punches hard through gaalis (abuses).
Music by Ram Sampath is good. Though you won't remember couple of songs played but 'Fuk fuk rey' and 'Jugaad Karle' sounds good to ears.
I'll go with three stars for Fukrey which deserves a watch for this fun journey won't disappoint you.