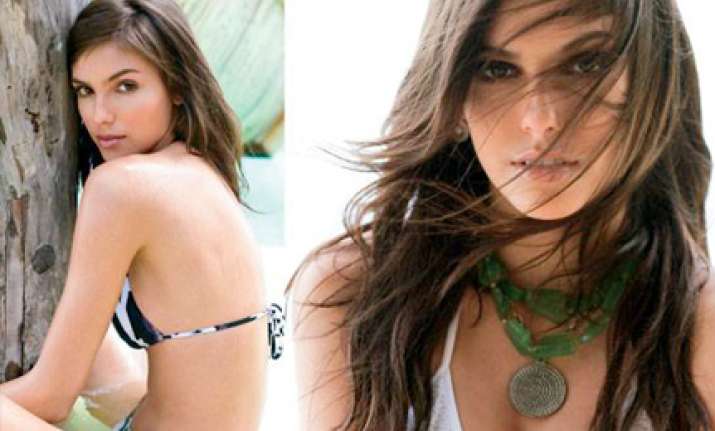 After film maker Sanjay Leela Bhansali's Sawariya bombed at the box office, there were expectations that Bhansali would come out with a new heroine in his forthcoming film Guzaarish, which stars Hrithik Roshan and Aishwarya in the lead.
It is now revealed that Bhansali has signed model Monikangkana Dutta to play Hrithik's former love interest. 
In the film, Aishwarya plays a married nurse who as modern-day Florence Nightingale treats Hrithik, a paraplegic patient after his accident. Prior to the accident, Roshan has a love interest in the movie for which Bhansali has signed Monikangkana. 
The director recently signed the young lady and has kept it under wraps. She is under contract and is not allowed to talk to anyone until the movie's release." 
Bhansali has singed her for a two-movie deal. Guzaarish will be the first and the second might be a solo launch for her. Monikangkana  is obviously very excited about bagging the role. She is not allowed to make many public appearances and remains discreet about the film deal." 
Hrithik Roshan does not know about Monikangkana being signed for the movie. "Aishwarya is married to debutant Aditya Roy Kapoor. Monika will be shooting for the next schedule. Her role is minuscule, but of great importance. Her character adds to the script," says a  source. 
Guzaarish is similar to John Badham's Whose Life Is It Anyway? The film with dark undertones, also deals with the controversial issue of euthanasia. 
Aishwarya's  character sparks off great interest with her playing a married woman who is attracted to Hrithik as the second half progresses. 
Bhansali confirmed that he had signed Monikangkana Dutta. "Her role is pivotal to the love story. She's a lovely girl," he gushed. He wouldn't commit about the second film but did not rule out a lead role, the media report said.