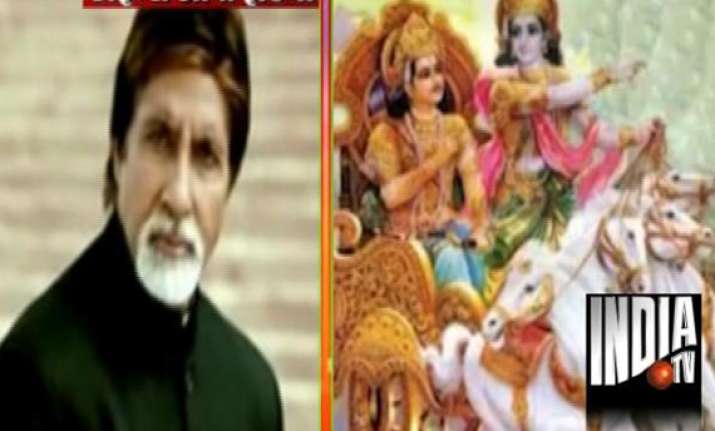 New Delhi: A furious Amitabh Bachchan has threatened legal action over a fake YouTube video that suggests he is backing Narendra Modi as the next prime minister.
Following Bachchan's strong protest online, a music composer from Rajkot has admitted to having uploaded it on YouTube and has apologised.
The 70-year-old veteran star, who is the brand ambassador of Gujarat Tourism, said the video was made by manipulating a voiceover that he did in 2007 for a 'Lead India' campaign.
Bachchan called the video "an illegal act, inviting strong action, one that I am appalled by, and one that has no concurrence from me at all."
"Dear all... Fake video circulation... In the year 2007, I did a 'Lead India' campaign..., where we talked of the glorification of the country and India!
"Somebody has made a fake video by using my voice and text of what I spoke in the original, and falsely and mischievously, interspersed it with visuals which indicate a campaign for the promotion of the Hon Chief Minister of Gujarat, Shri Narendra Modi!!," Bachchan wrote on his blog.
Modi too shared Bachchan's concern and sought apology from the creator of the fake video.
"Agree with @SrBachchan. The author of the fake video should take action immediately and apologize to Amitabh ji," Modi said in his tweet.
Utpal Jivrajani, a musician, has claimed responsibility for uploading the video on YouTube but he denied being the brain behind its creation.
"I have nothing to do with this video. I just got it on WhatsApp from one of the many groups I am associated with and when I found it interesting I uploaded it," Jivrajani told PTI.
"On August 15, I received this video of Mr Amitabh Bachchan and I found it very interesting, so I uploaded it.  But when I realised that it has enraged him and our Chief Minister Narendra Modi, I have apologised to both of them and now I have deleted it from YouTube," he said.
He said since his music album 'Gujarati Shakira' and 'Gujarati Ganganam' became popular he has been included in various groups active on WhatsApp.
Jivrajani said he is in no way aligned to either BJP or Congress politically.
Bachchan said he has brought this to the notice of the concerned authorities and has also asked his digital team to find out its origin "so that we can initiate action against the perpetrator. Infuriated and angered!!."