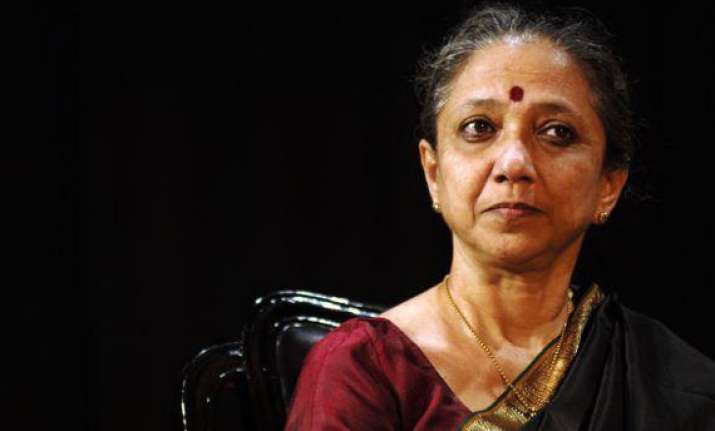 Mumbai:  The Central Board of Film Certification (CBFC) should be revamped as the institution doesn't have the freedom to take "independent decisions" and the film industry too doesn't have faith in it, says its chairperson Leela Samson.
The CBFC is a statutory body under the ministry of information and broadcasting to regulate public exhibition of films under the provisions of the Cinematograph Act, 1952.
"They created the CBFC to take independent decisions and then they don't allow you to do your job. And the film industry doesn't want you anyway," she said in an interview following the arrest of CBFC CEO Rakesh Kumar on bribery charges.
Excerpts:
Q. Matters pertaining to the CBFC have snowballed into a state of furious indignation?
A. Indignation...from which quarters?
Q. To begin with, the producers who are coming forward to accuse Rakesh Kumar of accepting bribes?
A. They were very happy with him until now. I'm sorry to say these producers are hypocrites. They seem to have opened up their repertoire of grievances when things are in an actual mess. In the last three months, when matters had gotten so messy, no one raised even a 'choo'. Not one producer called to complain before this (allegations of bribery against Rakesh Kumar). Now Mukesh Bhatt and all the other producers are calling every single day.
Q. How do you explain that?
A. Until now, the film industry seemed very happy with the system. They were able to deal with the system quite well. They were happy with it before Pankaja Thakur's tenure as the CBFC's CEO and they were happy with it until now. The truth is, the producers don't want to go through a proper procedure of censorship.
Q. I feel somewhat sorry for Rakesh Kumar?
A. Yes, in some ways he is just a pawn. He was appointed by supposedly sensible people. I think the Information and Broadcasting (I & B) Ministry and film industry should take some responsibility for what has happened. They zeroed in on a man who was totally inappropriate for the job. This man was set up for the game that film producers wanted him to play.
The producers on their part recognised in him just the guy they needed to get their job done by breaking rules. This was just before the Lok Sabha elections when my tenure and the censor board's tenure were over. We were just hanging in there unsure of our positions. So, Rakesh Kumar never reported to me about anything.
Q. What are you saying?
A. I am serious. He was perhaps asked not to report to me. He was perhaps told that I was redundant in some ways. I complained about this several times to the I & B Ministry. But they seemed comfortable with his attitude. Since the ministry seemed happy with the situation and since the censor board and I had been treated very shoddily, we were keen to just get out. You must understand we were not political people.
We are people who really care about sorting out the mess. And we had no axe to grind. And we aren't in the censor board for the payment. We often pay for our own work-related air travel. It's so unfortunate that no one had the courtesy to even acknowledge what we were trying to do, let alone say 'thank you'.
Q. What a thankless job!
A. It is! I think the censor board was created just so it could be this punching bag so that the heat could be taken off the I & B Ministry. They should close down CBFC and revamp it. They created the CBFC to take independent decisions and then they don't allow you to do your job. And the film industry doesn't want you anyway. Producers hate you. They submit their films on a Tuesday and want it certified by Thursday. That's absurd. We are all understaffed.
We are all working 18 hours a day across the country. I've to say in favour of the new I & B minister Prakash Javadekar that he immediately re-appointed the advisory panels. But the backlog is tremendous. Some panel members had been supporting him. Now that he has been caught, we are an organisation with no point of authority. That's when the I & B Ministry decided to acknowledge my presence again.
Q. How do you plan to clear the mess?
A. I am at the moment clueless. What can I do? I'd like to do something good. If I can't do, I'm ready to go.
Q. The entire film industry is suddenly shouting about transparency in the censoring process?
A. Unfortunately, they say they want it, but don't mean it. The big producers bulldoze their way into getting priority for certification breaking the queue at the cost of the smaller producers.
Q. Producers complain that their films get stuck?
A. We're only asking them to submit their movies two weeks in advance, and not two days before (release). Nowadays, we have an added problem of certifying one film in multiple languages. We're barely done certifying a film in English when the Tamil and Telugu versions also show up for certification.
Q. You said the CBFC should be scrapped?
A. This man has been questioned. But what if he had not? The situation would have gone on. How sad that would have been for the CBFC! How defunct an organisation would we have seemed.
Q. How much do you blame film producers for what happened?
A. I blame them completely. Why do they come for censoring through agents? Get into a queue to get your films censored. This is a democratic nation. There are democratic rules to be followed. Please have your films ready at least two weeks before release. Please don't book your theatres under the presumption that your film would be certified in a day or two.