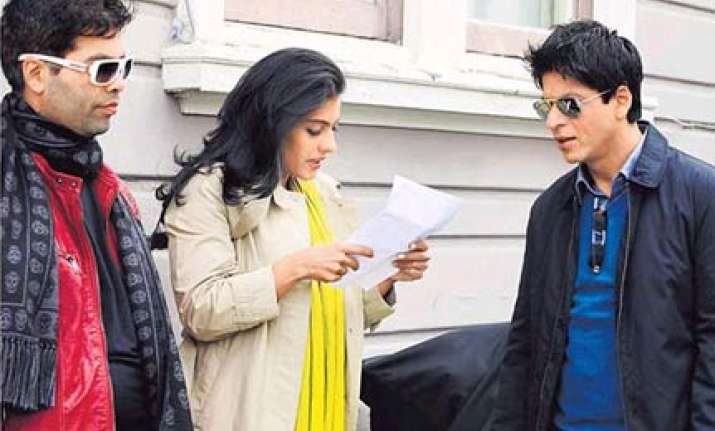 Film director Karan Johar  has some curious notions related to supersititions. 
For one, stars tripping on his film sets are considered signs of good luck. 
Karan Johar believes that if one of his actors trips and falls during the making of the film, then it will be a hit at the box-office, says a media report.
 Those in the know say that deep within his heart he hopes (and perhaps silently prays) that one of his stars accidentally trips — perhaps in the maze of wires criss-crossing the sets or on one of the props. Because once the actor falls, the producer-director is convinced that his film will be a winner!
During the US shoot of My Name Is Khan, Kajol had the misfortune of tumbling down while enacting a scene with co-star Shah Rukh Khan. Says a unit source, "When the incident happened, Karan whispered, 'Thank goodness... at last!' and rushed to the rescue of his favourite heroine. She was okay as it was a mere stumble but the fake concern he showed, made the unit hands burst out in laughter later."
Adds the source, "Basically Karan is not into superstitious beliefs. He would never want any such incidents to happen. But it has become a habit with him. From his first film Kuch Kuch Hota Hai, his heroines have somewhere or the other have managed to tumble on the sets. He regards this as a sign that Lady Luck will now smile at the project."
Says Karan, "It is a Dharma Production joke. Kajol has fallen in all my films. In fact, we were towards the last days of the shoot and she had not tripped. Mickey Contractor even told me — now what? We just had a few days of shoot left with Kajol when in a scene she had climb down a portico. There was just one step but she missed it — and fell. The entire unit burst out laughing. If she had not fallen, I would have been real worried."
Following are the incidents of KJo's actresses falling: 
Ø Kajol had fallen off a cycle while shooting for Kuch Kuch Hota Hai and suffered a scar on her forehead
Ø During the shoot of the song Sooraj Hua Madham, Kajol had stumbled while shooting in the sand dunes in Egypt during Kabhi Khushi Kabhi Gham
Ø Preity Zinta had a fall in New York during the filming of Kal Ho Naa Ho
Ø Rani had fallen twice during the shoot of Kabhi Alvida Naa Kehna
My Name Is Khan will be premiered at the 60th Berlin International Film Festival that will be held from February 11 to 21, 2010. The SRK-Kajol starrer will be screened as the main film and not in any section or category. It is the first Indian film to have a premiere at the festival.