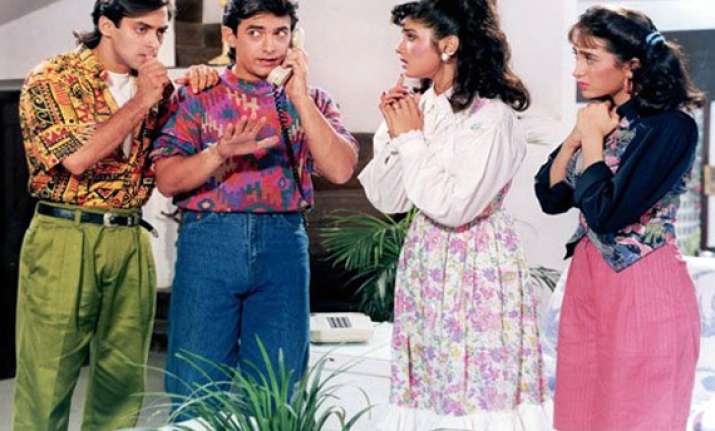 Mumbai: Rajkumar Santoshi is planning a sequel to Andaz Apna Apna. The 1994 film starring Aamir Khan and Salman Khan is one of Bollywood's most successful comedies, and Santoshi is eager to bring the two stars together again for the sequel.
But rumour has it that Santoshi is very keen on getting Raveena Tandon and Karisma Kapoor to be a part of the nerve cracking comedy's sequel. "The film is not possible without Karisma and Raveena. I don't want to reveal the story, but there is a scene in the beginning that features them, Santoshi says. However, the story moves ahead (in the sequel). It is about two characters (Amar Manohar and Prem Bhopali, played by Aamir and Salman respectively) and their new adventures, " he said to a leading tabloid.
Aamir and Salman have been close friends since they first worked together on the film, with Salman having praised Aamir's "golden touch" with movies.
Aamir has named the Ek Tha Tiger actor as the number one box office star.
Santoshi adds that he is in talks with Aamir and Salman about the sequel. "I am working on the script. I have
had discussions about it with Aamir and Salman. When I complete the script, I will hand it over to both of them. If everything falls in place, they will be part of the sequel too," added the filmmaker.
So be ready for this laughing riot!