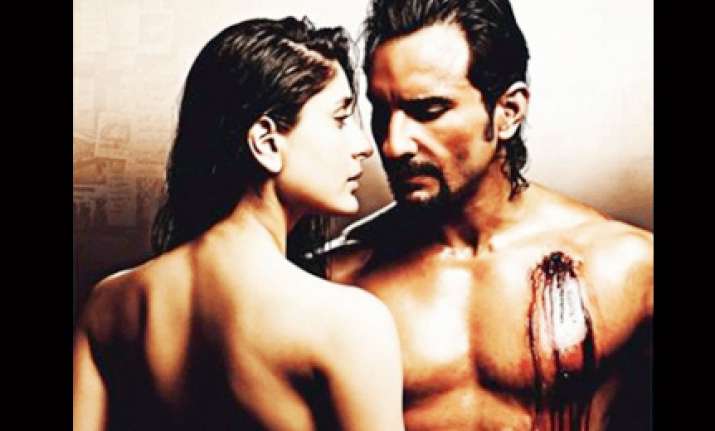 Bollywood star Kareena Kapoor has outkissed Mallika Sherawat's smooching record in Murder, by kissing Saif Ali Khan the manimum number of times in Rensil D'Silva's upcoming film Kurbaan.
The sizzling sexy siren plays the main lead opposite real life beau Saif Ali Khan. She has kissed so many times in the film that has surpassed even Mallika Sherawat smooching record of 'Murder.' 
Sources close to Karan Johar's production house reveal that the Saif-Bebo duo have brought in real life chemistry in their respective characters in the film. Kareena looks fabulous while Saif Ali Khan has shown his flirtatious side in Rensil D'silva's mega budget film.  
Earlier, Saif Ali Khan and Kareena Kapoor had enacted the longest ever kissing scene in Bollywood for this film  'Kurbaan', and now reports say that they are getting ready to make this one of the sexiest, sensuous and sensitive film ever made in Bollywood. 
Saif and Kareena want to dispel the myth that real life couples were never successful in films. They are under pressure to prove that the debacle of Yashraj Films' 'Tashan' was just an accident and their lack of chemistry was not responsible for it.
'Kurbaan' is based on the theme of Islamic terrorism, especially in the wake of terrorist attacks on the twin tower of New York. The movie tries to explore the impact of that powerful 9/11 attack on the lives of Muslims living in the US.
Saif plays an Islamic terrorist in the film, while Kareena plays the part of his beau, blissfully unaware of his true identity. The sensitive storyline is being helmed by Rensil D'silva of 'Rang De Basanti' (Rensil was the writer) fame.
Though the theme of 'Kurbaan' is said to be somewhat similar to that of Yashraj Films' earlier film 'New York', starring John Abraham and Katrina Kaif, but producer Karan Johar decided to go ahead with the project, trusting that the director would give it a different treatment.
'Kurbaan' also stars Vivek Oberoi, Dia Mirza, Kirron Kher and Om Puri in important roles. The flilm is due for world wide release on November 27 this year.